Paleontology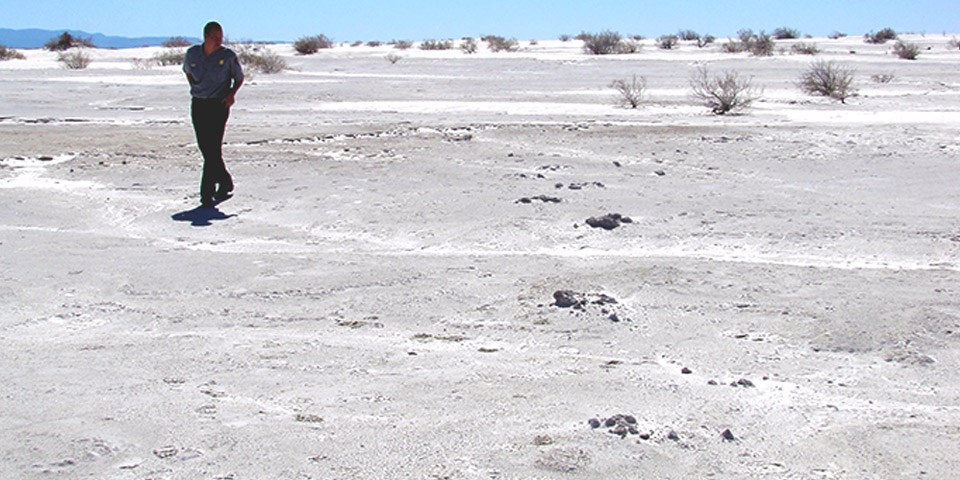 Thousands of years ago, giant animals roamed the shores of an ancient lake that covered what is now White Sands National Monument. Columbian mammoths, giant sloths, and dire wolves stepped in the muddy banks of Lake Otero, leaving behind their footprints. Today evidence of the path they walked is preserved in the sediments of Alkali flat. Prints made of gypsum crystals, dolomite, and sand are visible at the surface, and some trackways go on for two miles!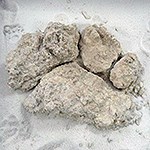 The Pleistocene Trackways of White Sands National Monument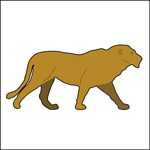 American Lion
During the Pleistocene Epoch, lions did not just live in Africa like African lions today. Large, lion-like cats lived throughout the world, like the American lions found in North America. Some debate exists about whether American lions were actually lions or a completely separate species, but whatever they were, they were surely fierce predators.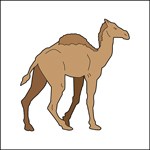 Ancient Camel
Camels are commonly associated with Africa, but did you know they actually originated in North America? Several now-extinct camel species once roamed this continent, such as the ancient western camel. This Pleistocene giant probably looked a lot like modern, one-humped dromedary camels, but it boasted longer legs, standing up to seven feet (over two meters) tall at the shoulder.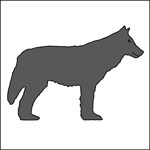 Dire Wolf
Once one of the most common large predators in North America, dire wolves were large wolves that lived in North and South America during the Pleistocene epoch. Standing at about 2.6-2.8 feet (80-85 cm) tall and weighing 130-150 pounds (60-68 kg), they were about the same size as modern gray wolves, but with a heavier, more muscular build.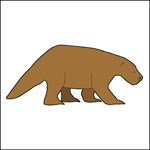 Harlan's Ground Sloth
One of the more bizarre animals of the Pleistocene epoch, ground sloths were ancient relatives of modern tree sloths, armadillos, and anteaters. The Harlan's ground sloth, however, would have dwarfed any modern relatives. This massive animal stood 10 feet (three meters) tall when upright and weighed over a ton (about 2,200-2,400 pounds or 1000-1090 kilograms)!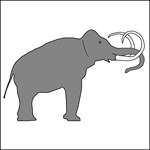 Columbian Mammoth
Columbian mammoths are responsible for the mammoth tracks found here at White Sands. These mammoths were massive animals, standing at up to 14 feet (over four meters) tall at the shoulder and weighing 18,000-22,000 pounds (8,000-10,000 kilograms)!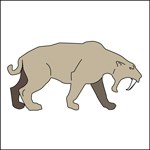 Saber-Toothed Cats
One of the most well-known predators of the last ice age, saber-toothed cats are famous for their oversized canine teeth, which could reach seven to ten inches (17-20 cm) in length! These teeth may look intimidating, but biting into the strong muscles of a prey's back or neck could have actually broken the long, thin canines. Because of this, saber-toothed cats likely used their teeth more for slashing at prey's throats or bellies in ambush attacks.
Last updated: March 7, 2017