Be A Junior Ranger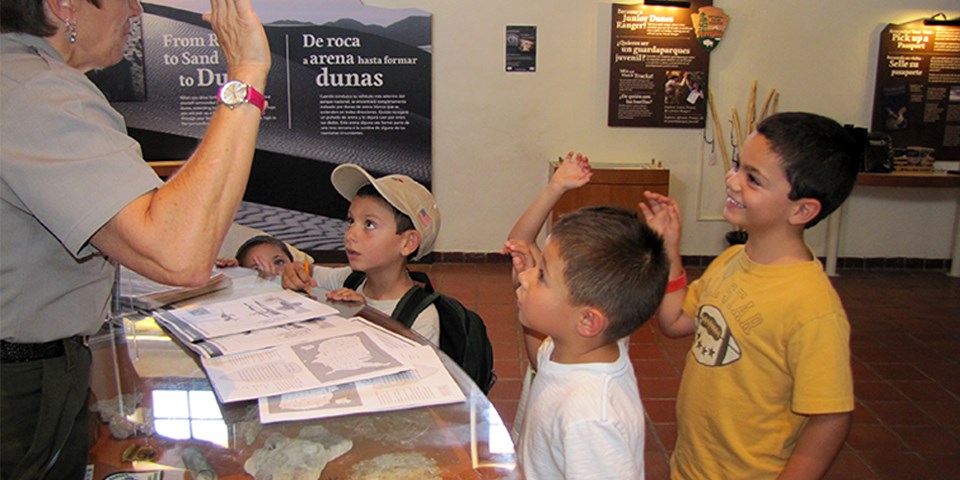 Become a Junior Dunes Ranger when you visit White Sands National Park!
The Junior Dunes Ranger Program is a program for kids of all ages who visit the park. The booklet is a way to learn more about White Sands National Park and the National Park Service while having fun at the same time.
There are four different age/developmental activity-levels: preschool (ages five and under), ages 6–8, ages 9–12, and age 13 and over. Riley, our Junior Ranger mascot, leads you through the activities. There are word puzzles, desert safety activities, visitor center scavenger hunts, a wildlife checklist, nature manners, and many other activities.
You can pick up your free Junior Ranger activity booklet at the visitor center or print the booklets before you visit. The preschool book (4,162 KB) is for anyone ages five and under. The Junior Dunes Ranger activity booklet (7,202 KB) is for ages six and up. There is no age limit. Anyone can become a Junior Dunes Ranger! Upon completion you can earn a Junior Dunes Ranger patch or badge. All ages will earn 15% off of any one item in the Western National Park Association park store and White Sands Trading Post gift shop.
Attention Boy Scout and Girl Scout Leaders:
If you are coming to the monument with your troop and would like them to earn a badge or patch, you must contact us two weeks in advance to make arrangements. We will work with you to create a project that will allow your troop to earn their badge or patch while learning about the park. We are unable to give junior ranger books to entire troops. Projects may include scavenger hunts or creative writing projects.


Last updated: December 27, 2019