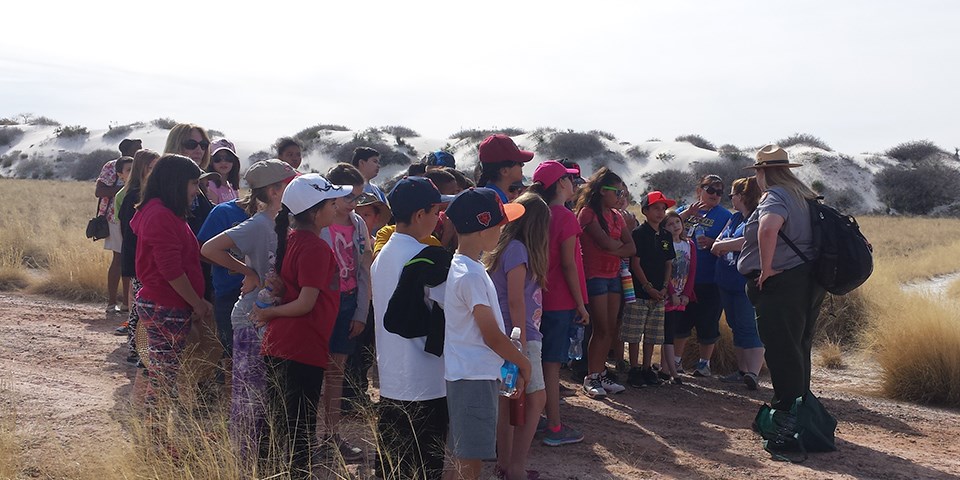 Ranger-guided programs for youth offer the chance for your group to learn about the monument while immersed in the resource. Whether you're studying geology, plants, animals, or history, our rangers can construct a program to fit your needs. These programs are offered in the monument. Requests for ranger programs in the classroom have a different reservation process that is not addressed on this page.
The monument requires at least two weeks advance notice in order to schedule and prepare for the program. Due to staffing limitations, we can only take one group at a time with up to 50 people. We will make every attempt to schedule a ranger for your group's visit. However, due to staffing limitations, we cannot confirm a ranger for a requested program until two weeks prior to your visit no matter how far in advance you make the reservation.
Reservations are accommodated on a first-come, first-serve basis. If we receive multiple requests for a program on the same day/time, and are only able to accommodate one program, we will provide the program to the group who made the request first.
We suggest allowing plenty of time for visits and scheduling in free/play time in addition to program time so your group gets the maximum benefit of the park experience and visit.
When scheduling a visit, please also consider time of day and the weather for that time of year to ensure your group is comfortable for the duration of the program.
How do I request a ranger-guided program for youth?
1. Complete the
Ranger Program Request form
. The form must be received by the monument no less than 14 working days prior to the day you are requesting the ranger program.
These programs can last up to one hour and may cover geology, plants, animals, and cultural history. On the program request form, please indicate what topic(s) you would like the ranger to address during the program and how long of a program you are requesting.
When you schedule a ranger program, please give an accurate start time for your request. The start time is the when the program will begin and not when you will arrive at the monument. Please schedule time prior to your program to use the restroom and address any other logistics.
Call in advance if you are running late.
If your group is more than 15-minutes late, we will not be able to provide the scheduled program.
We have limited staffing. We do not have much flexibility for rescheduling once a ranger is assigned to a program.
2. Submit the request form to the education specialist at
e-mail us
. We no longer wish to receive faxes. To save paper, please use email when possible.
3. The education specialist will contact you within one week of submitted your request to discuss the details of your request.
How d
o I cancel a program request?
If you need to cancel a program, we ask that you do so as soon as possible, with at least 24 hour notice to the monument prior to your classroom visit. This will allow us to reschedule as needed. Please call the monument at 575-479-6124 ext. 236 to cancel your program request. Please let the ranger know what school you are from and the day and time of the program you are canceling.
Please note that if your group cancels without providing advance notice, the participating teacher may not be able to request another ranger-guided program for youth within the year.
If You Have Additional Questions...
Please
email the Education Specialist
and write "ranger-guided programs for youth" in the subject line.