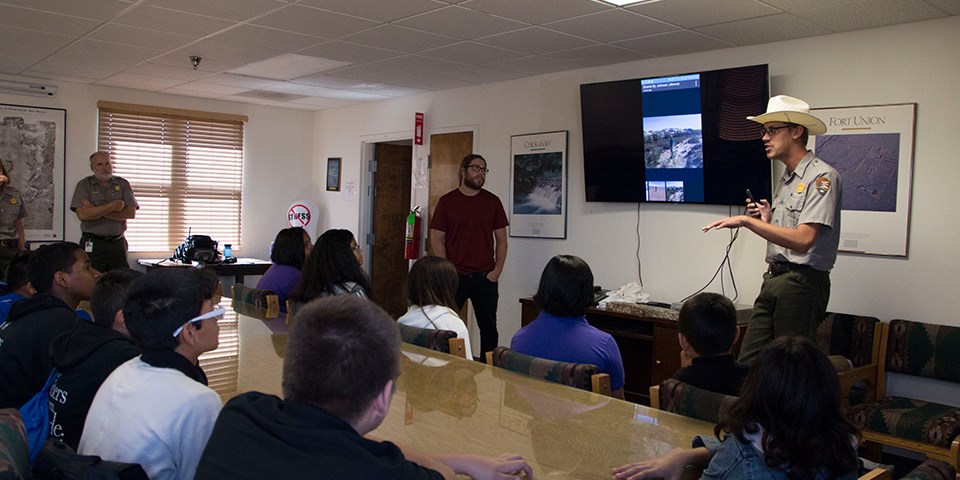 White Sands National Monument offers educational programs that directly connect park resources to what you are teaching in the classroom. Schools within a 90-minute driving radius from White Sands National Monument may request a ranger to present a program in the classroom, which includes the communities of Alamogordo, Tularosa, Cloudcroft, Las Cruces, and Mescalero.
How Do I Request a Ranger to Visit My Classroom?
1. Complete the
Ranger Program Request form.
The form must be received by the monument no less than 14 working days prior to the day you are requesting the ranger program.
On this form, you will be asked to provide program types, date choices, and specific curriculum standards that you would like the ranger to cover during your education program. Each program will be tailored to meet your classes educational needs.
The monument requires at least two weeks advance notice in order to schedule and prepare for the program. We will try to accommodate your request; however, staffing limitations may reduce our ability to address every program request.
2. Submit the request form to the education specialist via email at whsa_education@nps.gov at least two weeks in advance of your requested dated.
We no longer wish to receive faxes. To save paper, please use email when possible.
3. The education specialist will contact you within one week of submitted your request to discuss the details of your request.
How Do I Cancel a Program Request?
If you need to cancel a program, we ask that you do so as soon as possible, with at least 24 hour notice to the monument prior to your classroom visit. This will allow us to reschedule as needed. Please call the monument at 575-479-6124 ext. 236 to cancel your program request. Please let the ranger know what school you are from and the day and time of the program you are canceling.
Please note that if your group cancels without providing advance notice, the participating teacher may not be able to request another ranger program in the classroom within the same calendar year.
If You Have Additional Questions...
Please
email the Education Specialist
and write "guest speaker" in the subject line.