Indoor Activities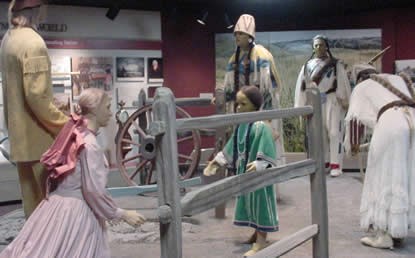 Museum
The museum compares and contrasts the lifestyles of the Whitmans and the Cayuse. The museum includes Native American cultural items, archeological artifacts, and items that belonged to the Whitmans and the Sagers.
Park Movie - A Prophecy Fulfilled (25 minutes)
The park has a new movie that focuses on the Whitmans coming into the Cayuse Homeland, the events that occurred, and the impacts those events still have today.
Video Short - Plateau Peoples: Facing Climate Change
(4 minutes)
The Plateau Peoples have a reciprocal relationship with their First Foods. The First Foods are those foods that agreed to care for the Plateau Peoples and, in turn, the Plateau Peoples have a responsibility to care for these foods.
Learn about these First Foods and how a changing climate may impact these culturally essential foods.
Bookstore
A small bookstore sells books about the Whitmans, the Cayuse, other Plateau Tribes, and topics related to the events that happened here.


Last updated: May 26, 2013