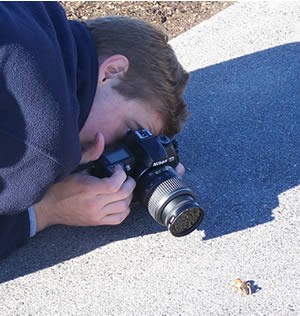 Blog Entry: October 31, 2010
Zach Schierl
Despite the rather intimidating appearance of the bizarre and alien looking insect below, the Jerusalem Cricket is completely harmless to humans. They spend most of their short lives below ground, but one ventured to the surface this morning along the sidewalk up to the Whitman memorial shaft. It might be the strangest looking insect I've ever seen. With the hind legs and body of a cricket, and a head that would look at home in just about any sci-fi horror film, Jerusalem Crickets are not true crickets, nor do they have anything to do whatsoever with Jerusalem either. They are not poisonous, although I highly doubt if it would be fun to be on the wrong side of its massive pincers.
That's all for today, I'll be posting a longer blog entry later this week after I've had time to sift through pictures from this weekend.