Troop 190 Helps Out
Blog entry: March 13, 2011
By Renee Rusler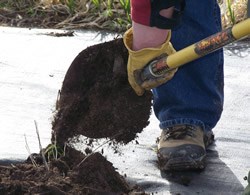 Boy Scout Troop 190 out of Richland, Washington, arrived early Saturday morning. They were here to help with the park's on-going efforts to restore Doan Creek. The day's goal: Get ahead of the weeds!
It was a two-pronged effort. First task was to put compost around new plants. The park makes its own composts out of grass-clippings, downed branches, and other plant material. The compost is a nutrient rich, water-retaining medium useful to growing plants. And if you pile it thick enough, it keeps weeds from popping up.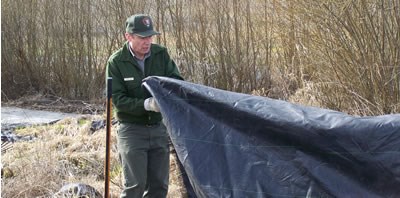 Another way to reduce weeds is to use mulch-cloth. Mulch-cloth allows water to pass through, but not plants. Desired shrubs and grasses are placed in slits in the cloth. Unfortunately, recent winds had ripped the mulch-cloth loose. The day's second goal was to use steel pins to re-attach the mulch-cloth.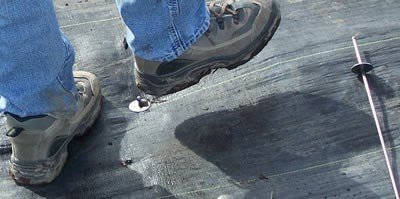 This is not the first time Troop 190 has helped out at Whitman Mission. In the fall of 2009, they removed weeds at the park. These projects help the scouts earn merit badges and complete service hours. According to Assistant Scout Master Neal Corrigan the troop is proud to be able to help the local natural areas.
The Doan Creek restoration would not be possible without the assistance of Troop 190 and the many other volunteers who have helped out over the years. Learn more about the Doan Creek Restoration Project.
If your group would like to lend a hand, contact Roger Trick at 509-522-6360.
Last updated: March 1, 2015