Staff Visitors and Friends
---
March 1, 2011 - Renee Rusler - 5000 Hours and Counting!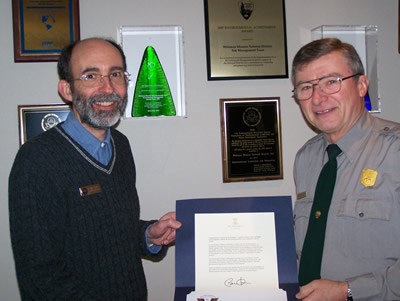 Volunteer David Borges has put in over 5000 hours at Whitman Mission National Historic Site. David serves as the Museum Technician for the park. Today he was awarded the President's Volunteer Service Award for all of his hard work. We are so pleased, that we just had to share the news.
---
May 11, 2011 - Renee Rusler - Saying Goodbye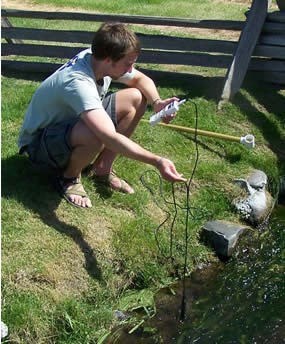 On May 4, park staff said goodbye to Aidan Beers. Aidan was the park's Water Monitoring Intern for this spring. Each week Aidan collected data on water temperature, pH, oxygen levels, and the turbidity of Doan Creek. This data is used to determine whether the stream meets the necessary requirements for steelhead. In 2005 Whitman Mission began physically restoring the portion of Doan Creek that goes through the park. One of the goals of this project is to provide habitat for these fish. Over the years many groups and individuals have helped with the restoration process. For the past five years the Environmental Studies Internship Program at Whitman College has provided the park with an intern who takes weekly measurements of these stream quality factors.
Aidan is a biology/environmental studies major at Whitman College. He stated that he enjoyed the opportunity to get some real field experience and to be a part of the larger goal of restoring and maintaining Doan Creek.
---
May 16, 2011 - Renee Rusler - Yellow is One of Our Favorite Colors

The color yellow and the sound of laughter will be common at Whitman Mission for the next several weeks as area school children visit the park. Whitman Mission is a popular field trip destination. Special programs are available that coordinate with topics being covered in the classroom. Give us a call if you and your class would like to visit the mission. But call early. Spots fill up quickly.
---
May 22, 2011 - Renee Rusler - A Fond Farewell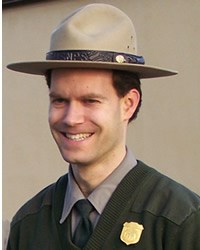 For over 12 years the smiling face of Ranger Rick Laughlin has greeted visitors to Whitman Mission National Historic Site. This spring he accepted a promotion with the National Park Service back east.
He will be missed.
We wish him the best in his new endeavors.
---
May 29, 2011 - Renee Rusler - A Visit from Max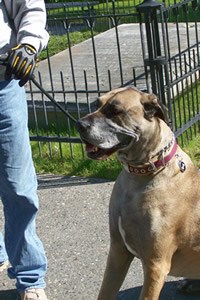 Yesterday, Max the Great Dane and his family took advantage of the sunny day to visit Whitman Mission. They frequently come here to get some fresh air and exercise. The hill makes for an especially good work out.
Max is not alone, other dogs regularly visit the park with their faithful companions.
Using a leash is important. Even the friendliest dog can get excited and rambunctious, or possibly appear scary to other visitors. Max is a sweetheart, but Max dashing gleefully toward you can be intimidating. Also, dogs of any size can seem threatening to the local wildlife that call Whitman Mission home.
Max recommends visiting Whitman Mission and while here to be respectful of others by wearing a leash.
Last updated: March 1, 2015