Nature sightings June - July 2012
---
July 1, 2012 - Renee Rusler - They're Growing up
The baby Wood Ducks are getting bigger. Here they are with mom, taking a rest on one of the floating boards.
They are definitely larger that they were just a couple of weeks ago (compare this photo to that of entry June 13).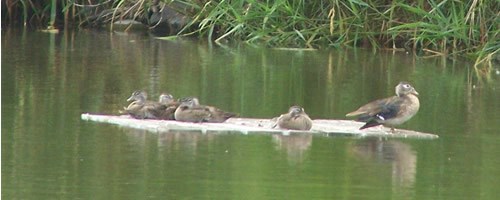 ---
June 20, 2012 - Renee Rusler - Entwining Snakes
On Saturday a visitor spotted these two gopher snakes while she was walking along the base of the hill. She mentioned them to the ranger at the information desk.
The snakes were still there when I arrived with the camera. What intrigued me most was that the head of one snake was inside the mouth of the other. What a wonderful nature moment. Check out the photos below.
A special thanks to the lady who took the time to tell the rangers about this. We appreciate it.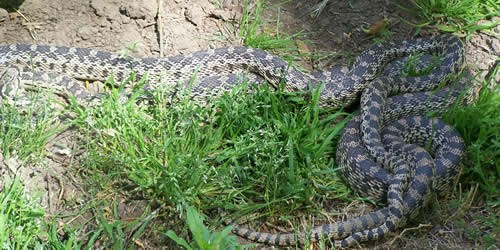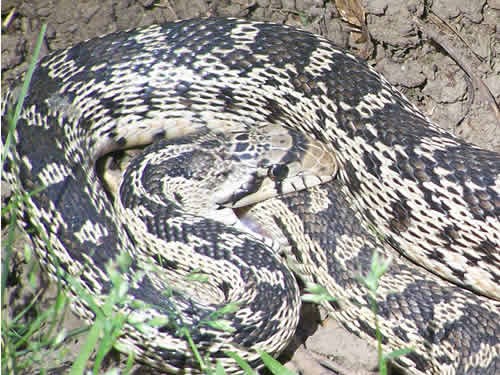 ---
June 13, 2012 - Renee Rusler - Wood Ducks at Whitman Mission
A family of Wood Ducks, a mother and five ducklings, has taken up residence in the park's Mill Pond. But they can be hard to spot. They tend to stay near the edges, so scan those areas and look for movement. The female Wood Duck is brown and has a distinctive large, white tear-drop-shaped patch around her eye.
Wood Ducks are fascinating birds. They nest in trees, have claws, and the male Wood Duck is especially colorful.
Have fun looking for them!
---
June 6, 2012 - Renee Rusler - Bunches of Bunnies
After several years of not seeing as many rabbits at Whitman Mission, the park seems to again be flush with bunnies. Mornings and evenings are best times to see them, but they can be spotted other times also.

Last updated: March 1, 2015