Events 2011
---
July 17, 2011 - Renee Rusler - A Diamond Jubilee Summer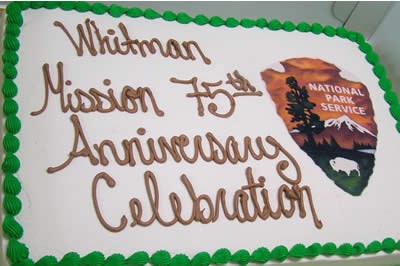 Sorry for the long hiatus. Park staff have been working to create an extra special selection of summer activities to mark the 75th anniversary of Whitman Mission becoming part of the National Park Service (NPS). It's a Diamond Jubilee Summer!
On June 29, 1936, President Franklin D. Roosevelt signed legislation making Whitman Mission a unit of the National Park Service. This June 29 the park served cake.
---
February 28, 2011 - Renee Rusler - Listening for Owls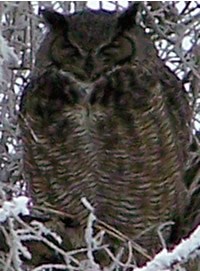 A few intrepid individuals joined us on Sunday for the park's first winter bird walk led by expert birder Mike Denny. We found California Quail roosting in shrubs near the Great Grave. We watched as pair, after pair, of Canada Geese landed on the Mill Pond for the night. As the sky darkened, we kept our ears open for the hoots of Great Horned Owls which nest in the park.
While we listened and waited, Mike Denny shared from his wealth of information. We learned that owls do not build their own nests. Great Horned Owls often take over the nests of Great Blue Herons or Red-Tailed Hawks. Great Horned Owls are tough; if it comes to a fight over housing, they win.
They also start early. In fact Great Horned Owls are already nesting. The female sits on the nest, while the male hunts for food. The couple talks to each other throughout the night. The male has a low hoot; the larger female has a higher pitched hoot. They often sound like a singing duo.
We were all anxious to hear this duet for ourselves. But alas, it was not to be. Another tidbit we learned was that Great Horned Owls don't hoot when it is windy, and there was quite a breeze.
But there will be other nights. The owls are out there, maybe even near your own home. You just need to go outside and listen.
Whitman Mission is open every evening until ½ hour after sunset.
(Author's Note: After writing this post, I left the building, and heard a Great Horned Owl hooting in the distance.)
Last updated: March 1, 2015