Down the Oregon Trail
Blog Entry: November 21, 2010
Zach Schierl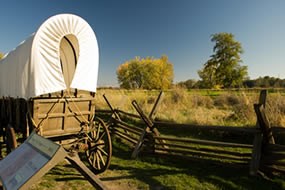 Today we take a journey down the historic Oregon Trail. While Whitman Mission National Historic Site is best known for Marcus and Narcissa Whitman and the Cayuse attack that took their lives in 1847, the history of the mission is inextricably tied to the Oregon Trail and westward expansion. Early in its history, the Oregon Trail passed directly by Whitman Mission and while in later years the main trail was redirected to the south, the mission at Waiilatpu continued to be an important waypoint for weary travelers heading to the Willamette Valley.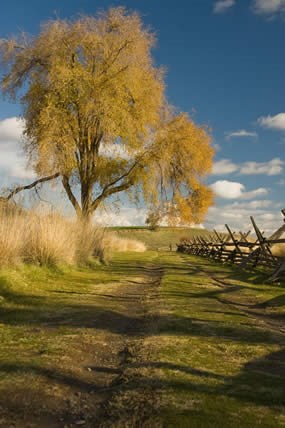 The Oregon Trail is central to the story of Whitman Mission and the tragic events that took place here. Had the Whitmans' 1836 route across the Rockies not later become the pathway for thousands upon thousands of westward bound emigrants, the story of the Whitmans could have ended quite differently. When the Cayuse first welcomed the Whitmans onto their land in 1836, they could not have foreseen the stresses that the development of the Oregon Trail would eventually bring to their tribe and the effect it would have on their traditional lifestyle. The Blue Mountains just to the east were one of the most difficult and trying parts of the overland journey. Beginning in 1842 travelers often arrived at Whitmans' mission sick, hungry, tired, and in need of medical attention. The more time that the Whitmans spent tending to the travelers (who numbered in the thousands yearly by 1847), the less time they had to devote to mission efforts. Soon the Cayuse found themselves #2 on the Whitmans' to-do list and surrounded by an influx of white emigrants, many of whom stayed at the mission during the harsh winters. Marcus Whitman himself wrote in a letter in 1844, "I have no doubt our greatest work is to be to aid the white settlement of this country & help to found its religious institutions."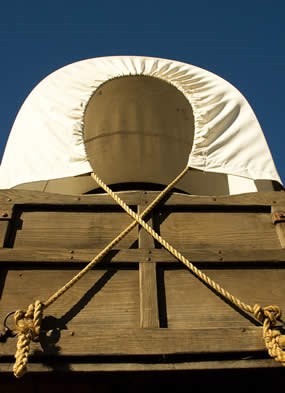 Visitors to Whitman Mission can still see the path of the old Oregon Trail (as well as reconstructed wagon ruts) as it passes through the park. Sitting on the trail in the summer months you can also find a replica wagon of the type used by Oregon Trail emigrants.
Now that the snow has begun to fall, the wagon will live on the back patio of the visitor center for the rest of the winter to protect its decaying wood from further attack by the wind, rain, and snow.
---
Want to learn more about exploring Whitman Mission with your camera? Click here for more blog entries from the Photographer's Eye.
Last updated: March 1, 2015