Nature Sightings: Jan. - Aug. 2011
---
June 1, 2011 - Renee Rusler - Rewards of an Early Morning Walk
This morning I followed through on my good intentions and actually got up early enough to get some exercise before work. I decided to walk around the mission grounds and was rewarded with more than good health.
The morning was cool and overcast. A perfect time for seeing animals. As I walked through the parking lot I caught a flash of white made by the tail of a White-tailed deer before it disappeared into the trees. A pod of American White Pelicans flew overhead. I unintentionally flushed a few Ring-necked Pheasants. And, on a nearby hill, was the sillhouette of a coyote.
A good way to start the day.
---
May 28, 2011 - Renee Rusler - A Wren in the Bushes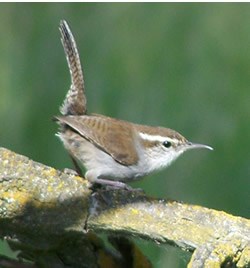 Wrens are usually small, chunky, brown birds with tails that typically stick up. They also have thin, slightly curved beaks.
The tail of the Bewick's Wren is longer than most wrens, which it flicks from side to side. It has a distinctive white brow above the eye and white spots along the outer edge of the tail.
These wrens prefer brushy areas, streams sides, and woodlands. They breed at Whitman Mission and are often seen. They can be found in bushes along the park's reconstructed Oregon Trail ruts and at the base of the hill.
Bewick's Wrens are very territorial and will destroy the eggs of other wrens or songbirds in the area.
(Information from: Field Guide to the Birds of North America by the National Geographic Society and from Birds of the Inland Northwest and Northern Rockies by Nehls, Denny, and Trochlell.)
---
May 21, 2011 - Renee Rusler - A Brief Moose Sighting
A park staff member got a brief look at a moose this morning around 10:30 am before it disappeared again into the brush near Doan Creek. The employee did not pursue the moose.
Remember: Moose are wonderful, but they are also very dangerous. If you are lucky enough to see one, do not get too close.
---
May 15, 2011 - Renee Rusler - A Bloomin' Background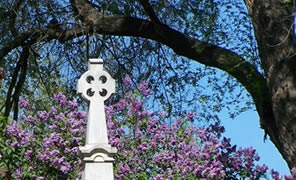 ---
April 5, 2011 - Renee Rusler - Pelicans, a Coyote, but No Camera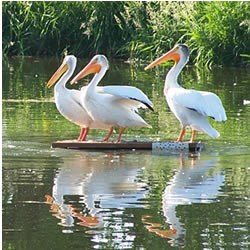 A small flock of American White Pelicans flew over the Visitor Center yesterday. I ran for my camera, but unfortunately, by the time I returned, they had flown off to the west and were lost against the gray, overcast sky. But don't despair. For the past few years, American White Pelicans have been seen fairly regularly during spring and fall migration. Often they are seen flying overhead, but occasionally they are also seen floating in park's Mill Pond. Or, as in the photo to the left, which was taken in 2007, standing on one of the floating boards usually used by the resident turtles. So, look up. You may spy some of these majestic birds.
This morning, a little before 8 am, I glanced out the window and saw a coyote running across the grounds. If you live near the park, like I do, you probably have heard them at night. But I don't usually see them. Again, the camera was not where I was. The coyote didn't pause. I stayed at the windown and enjoyed the moment. I have a wonderful memory, but no photo.
Spring is here. Animals are out and about. Keep your eyes open and your camera handy.
---
April 4, 2011 - Renee Rusler - Double Moose Sighting!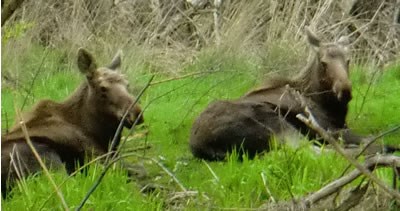 ---
March 30, 2011 - Renee Rusler - Swan Lake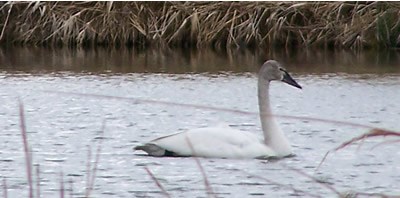 ---
February 21, 2011 - Renee Rusler - Bird Walk This Wednesday!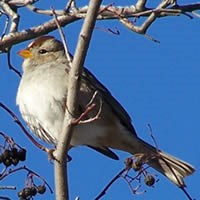 Spring migration has begun! Join expert birder Mike Denny on Wednesday, February 23, as we look for early migrants and listen for owls.
Meet in front of the Visitor Center at 5:30 pm. Bring binoculars if you have them.
The walk should last about an hour, maybe a little more.
If bad weather forces this walk to be canceled, it will be rescheduled for Sunday, February 27, same time.
---
February 13, 2011 - Renee Rusler - We Have Flowers!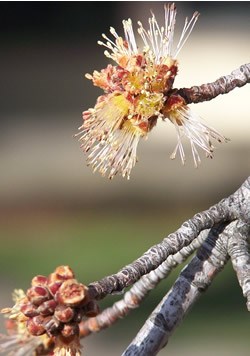 Maple trees are one of the earliest to flower in the spring. What flowers you say! While maple trees are more commonly known for their distinctive leaves, these trees also have flowers, but you have to look close and you have to look quick or you'll miss them.
Being a sign of spring, you can imagine my delight when I looked out my office window and glimpsed the maple trees flowering behind the Visitor Center. More accurately I imagined them when I saw tufts of something at the ends of the maple tree branches. I went out to get a closer look and to take a few photos.
Maple flowers don't have showy petals. Sometimes they don't have any petals at all. What is visible is several long stamens, which give the flower an airy look. If they were bigger, they would be very eye-catching. But being small, most people walk right by without even noticing these little gems.
Take a look around. If the maples have begun to bloom there will soon be other signs of spring.

---
February 2, 2011 - Renee Rusler - Yes, It is a Bald Eagle!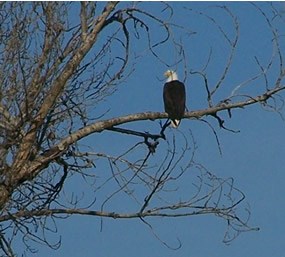 Park staff were very excited when they heard there was a bald eagle in the park.
One captured this image of the eagle resting in a tree at the mouth of Doan Creek.
A moderate number of bald eagles spend the winter near the Walla Walla river. They hang out in areas where they think they'll find fish. Does this eagle think it might find fish here? That is good news for the park.
For the past several years the park has been restoring Doan Creek. One of the goals is to provide habitat for fish. Learn more about the Doan Creek restoration project.
---
February 1, 2011 - Renee Rusler - A Haven on a Frosty Morning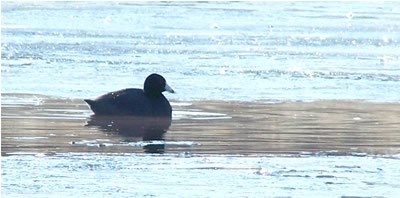 ---
January 19, 2011 - Renee Rusler - Is it Spring Yet?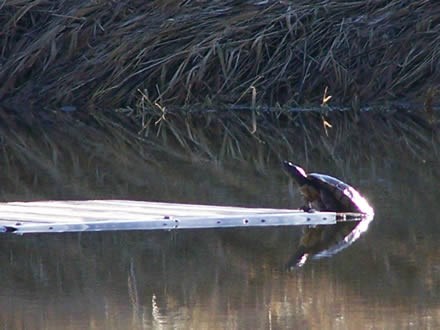 Last updated: March 1, 2015