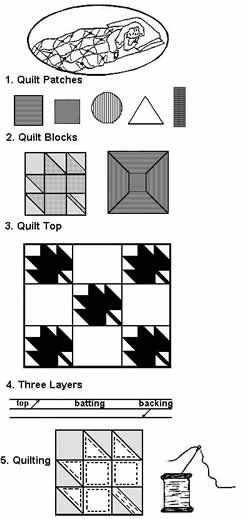 A patchwork quilt is a blanket or bed cover.
A patchwork quilt is made of little patches of cloth cut in different shapes and sizes.
The little patches are sewed together to make a pattern. This is called a quilt block. There are many different quilt block patterns. One of the patterns on this page is a maple leaf pattern and the other is a bow tie pattern. Can you tell which is which?
The quilt blocks are then sewn together to make a quilt top.
After the quilt top is made, a layer of cotton is placed underneath to make the quilt soft and fluffy. This is the batting. Then, a large piece of cloth, the quilt backing, is placed underneath the batting.
Last of all, very small stitches are made around each part of the design through all three layers. This is called quilting.
Make a maple leaf quilt block or design your own quilt block.