Biography of Narcissa Whitman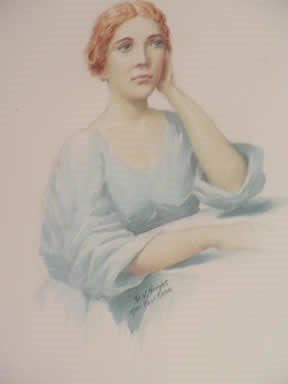 Narcissa Prentiss Whitman was born March 14, 1808 to Stephen and Clarissa Prentiss in Prattsburg, Steuben County, New York. She was their third child of nine. As their eldest daughter, Narcissa helped with the upbringing of her younger brothers and sisters. Her first ancestor in America, Henry Prentice, emigrated from England prior to 1640 and settled in Cambridge, Massachusetts; it was likely that Narcissa's grandfather was the one who changed the spelling from Prentice to Prentiss. Narcissa Prentiss Whitman, like her husband, became one of the most known figures of the 19th century. People knew her in a more personal way than Marcus Whitman due to her diaries and letters she sent to family and friends in the east while living in the Oregon Country.
Prattsburg was located about 25 miles south of Rushville, New York, where Marcus Whitman was born. The conditions of the town of Prattsburg were as primitive as those in Rushville. The Prentiss family had moved to Prattsburg in 1805. Early on, Stephen Prentiss supported his family through farming, though he was by profession a carpenter and joiner. He began operating a gristmill, distillery, and sawmill, which supplied him with lumber to build houses in the growing community.
Narcissa was a product of the same religious re-awakening as her future husband, Marcus. At a revival in 1819, Narcissa Prentiss, at the very young age of 11, had a conversion experience and was received as a member of the Congregational Church. Narcissa read about and was inspired by the life of Harriet Boardman, an American Board of Commissioners of Foreign Missions (ABCFM) missionary to India. At age 16, she decided she wanted to become a missionary. She later wrote in a letter of application to the ABCFM:
"I frequently desired to go to the heathen but only half-heartedly and it was not till the first Monday of Jan. 1824 that I felt to consecrate myself without reserve to the Missionary work waiting the leadings of Providence concerning me." (Drury, 1986: 104).
Beyond assisting her mother with her large family, and being active in church and social activities, Narcissa attended several terms at Prattsburg's Franklin Academy. The education she obtained there and at a female seminary ("normal" or teaching school) in Troy, New York, would assist her in her profession as a teacher. It was perhaps during her time at Franklin Academy that another student proposed marriage to Narcissa. Henry Harmon Spalding, who later became a missionary and accompanied the Whitmans to the Oregon Country, was turned down in his proposal to Narcissa Prentiss. Narcissa went on to teach district school in Prattsburg and also spent time teaching kindergarten in Bath, New York. In 1834, her family moved to Amity (now called Belmont), about forty miles from Prattsburg where there may have been more work in carpentry for Narcissa's father. It was in Amity that Narcissa heard Reverend Samuel Parker speak of the need for missionaries; she answered the call, asking Parker if single women were wanted in the missionary field. Parker wrote the ABCFM regarding Narcissa's request in December, 1834, but it was only two months later that Marcus Whitman, who also had offered himself as a missionary, proposed to Narcissa Prentiss. After becoming engaged to Marcus, he encouraged her to formally apply to the American Board for a missionary appointment. Her letter of application and testimonials were received by the ABCFM and she received her appointment as a missionary in March, 1835. It would be 11 months before she and Marcus were able to be married as he was on an exploratory mission in the West.
On February 18, 1836, Narcissa Prentiss and Marcus Whitman were married. The next day they began the journey that took them west to a new home and a new life. Upon leaving, Narcissa would never again see her family and would only speak to them through the prolific letters of the next 11 years.
Narcissa's life at Waiilatpu in the Oregon Country would have been busy, but lonely. She taught school and lessons to the Indians and later to her adopted children. On the journey west, Narcissa became pregnant. She gave birth to her only natural child, Alice Clarissa Whitman, on March 14, 1837, Narcissa's 29th birthday. Alice was the joy of Narcissa's life, but Alice's life was cut short, drowning in the Walla Walla River on June 23, 1839. After the death of her daughter, Narcissa became depressed and introverted, she spent a lot of time in her room writing her family. She did not have any family or female friends nearby to comfort her as she would have had back in New York. When the seven Sager orphans entered the Whitmans' lives in 1844, Narcissa found a reason to come out of her depression. The oldest, John, was a teenager, while the youngest, Henrietta, was an infant. Narcissa was once again a mother, taking care of the Sager children and several half Indian foster children. The Sager girls remembered Narcissa as a loving but firm disciplinarian. They also told of Narcissa's love of nature, the outings and picnics where they would look at various plants and flowers. She had a sense of humor and a beautiful soprano singing voice. The Sagers as well as many others remember these qualities of Narcissa Whitman.
Narcissa was mother to the Sager children for about three years. In that time she influenced the lives of the three eldest Sager girls greatly, they would carry the moral influence of Narcissa through the rest of their lives. Narcissa Prentiss Whitman died on November 29, 1847, a victim of the same series of events that ended the lives of her husband and eleven emigrants at the mission. Narcissa is remembered for several "firsts". She was one of the first two white women to cross the continent overland, and she had the first child born of American parents in the Oregon Country. It was her journey that proved that it was possible for women to cross the country on foot, opening the way for the next several generations of emigrants who journeyed down the Oregon Trail. Her letters were published and widely read, influencing an entire generation of girls probably not unlike Harriet Boardman of India, influencing Narcissa herself. Her letters tell us of her life - the joys, sorrows, and dreams that she had during the last eleven years of her life. It is through these letters that we learn of Narcissa Whitman, an ordinary woman in extraordinary circumstances, that make her still remembered today. Narcissa Whitman's memory is preserved at her last home near Walla Walla, Washington, as well as her first home in Prattsburg, New York.
---
Sources
Drury, Clifford M. Marcus and Narcissa Whitman and the Opening of Old Oregon. 1986. Pacific Northwest National Parks & Forest Association: Seattle, Washington.
Last updated: March 1, 2015