The Graves of Marcus Whitman's Parents
The parents of Marcus Whitman, Beza (1773-1810) and Alice (1777-1857), are buried in the Baldwin Corners Cemetery, located about a mile north of Rushville, New York. Beza Whitman married Alice Green on March 9, 1797. They moved to Federal Hollow, later renamed Rushville, around 1800. Marcus was born in Federal Hollow (Rushville) in 1802. Eight years later Beza died at the age of 37. Widowed with 5 children, Alice married Calvin Loomis (1766-1840) in 1811. She had three more children and lived to the ripe old age of 79.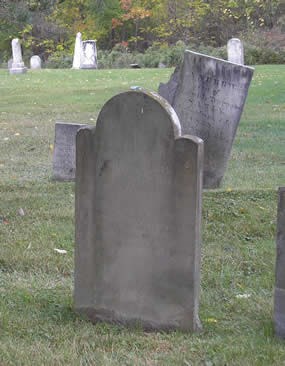 There are several notable characteristics of Bezant's tombstone. There are six to eight similar markers in this cemetery, made of the same flaky, shale-like rock, and probably inscribed by the same carver. They all are approximately the same date, bear the same letter style and shape of tombstone, and many have a cryptic riddle or poem about death as an epitaph. This carver also apparently had difficulty making his words fit the available space, since not only did he run out of room on Bezant's stone (having to superscript the final "e" in "me"), but he also had the same problem on two other markers. On two of his other creations, however, he did manage to spell "friend" correctly.
The full text of what is on Beza's headstone reads:
In Memory of Beza
Whitman who Departed
this life April 7th AD 1810
in the 37th year of his
age
Stop here my freind [sic] and think on me
I once was in the World like the [thee]
This is a call aloud to the [thee]
Prepare for Death and follow me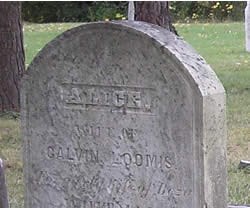 Alice Loomis was buried next to her first husband, Beza Whitman. Alice's headstone is lighter than Beza's reflecting a later style of both material and writing. The text on her headstone reads:
ALICE
WIFE OF
CALVIN LOOMIS
Formerly Wife of Beza
WHITMAN
DIED
Sept 6, 1857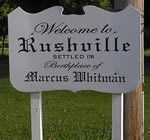 Rushville is located about twenty miles north of Prattsburgh, the home of Narcissa Prentiss, the woman who would later marry Marcus Whitman. Both villages are in the Finger Lakes Region of western New York State, part of the area called the "Burned-Over District" in the years prior to the Civil War. The region got its name from the intense religious activity that consumed the entire western half of the state. During this time period, intense evangelistic gatherings, called "Camp Meetings," were used to attract new followers and to confirm believers in their faith. Thus, the religious fervor demonstrated by Marcus and Narcissa, leading to their accepting the rigors of missionary life, was not uncommon. Many of the Methodist missionaries that swept into the Pacific Northwest during the first half of the 19th-century were also from western New York.
Written for Whitman Mission National Historic Site
by Michael McKenzie, Ph.D.
Keuka College
Keuka Park, New York
Pictures by Michael McKenzie, may be used only by permission of the author.
Last updated: March 1, 2015