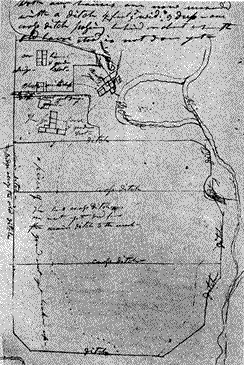 The Columbia Plateau is largely covered by dry, grassland. Dr. Whitman realized what this meant to farming. In 1841 he wrote to his friend, Dr. Bryant that: "Cultivation will require the aid of irrigation in order to make a business of it even in this valley." With the aid of local Indian peoples these ditches became a reality.
William Gray wrote: "Both our houses are now surrounded with a ditch 4 feet wide and [5?] deep—our [cross? or crops?] ditch passing behind or about where the old [first] house stood is not done yet." And again: "Perhaps you will be surprised when I tell you that all our ditches have been dug by the Indians & that too with very little of my superintending them. They have done it all by the job—we gave them 1 [ball?] for [10?] feet 4 inches in length 4 feet in width 2 ½ ft. deep."
Catherine Sager described the main ditch that came off the north side of the Mill pond: "A good-sized ditch passed in front of the house, connecting with the mill pond, intersecting other ditches all around the farm, for the purpose of irrigating the land."