Firewood Permits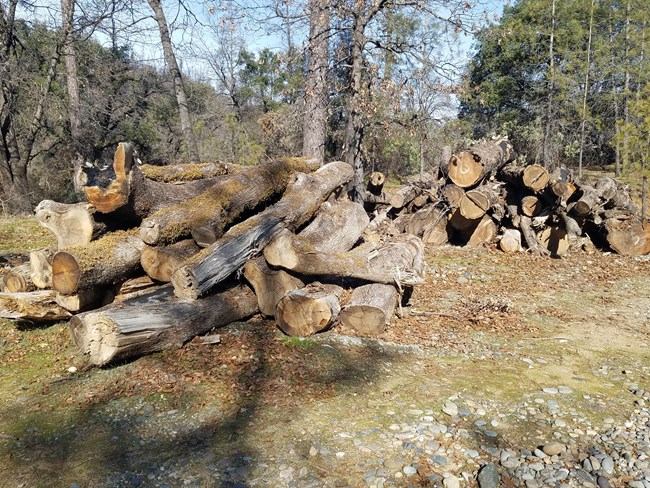 Since the Carr Fire, National Park Service employees and contractors have removed over 15,000 hazard trees in the park. The more salvageable of these trees have been stacked into log decks at easily accessible locations and will now be offered to the public as an inexpensive source of firewood. Most of the wood is from ponderosa, gray and knobcone pine, but there is also oak available at some locations.

To harvest the logs, a firewood collection permit is required and must be purchased online beginning Monday, March 8th. Permits are valid until May 31st. Only 200 permits will be sold. Each firewood collection permit costs $10 and allows the purchaser to collect one cord of wood. A maximum of four permits per person may be purchased for four cords of wood.

An entrance pass to the park is also required and may be purchased online at the same website.

Three locations will have limited access: Coggins Flat is walk-in access only; the Tower House Historic District gate in front of the Camden House will be open only on March 13th and 27th from 9:00 am to 3:30 pm; and the pile located at mile marker 10.5 on Highway 299 West will only be open March 20th and 27th from 9:00 am to 3:30 pm.Wood is available on a first come, first served basis; wood cannot be held or reserved. Wood collecting is for personal use only and may not be sold. Wood is only to be cut into rounds for transport; splitting and milling are not allowed on site. Chainsaws may be utilized for preparing logs for transport. The operation of tools and equipment is at one's own risk.

Please visit Recreation.gov to obtain your firewood collection permit.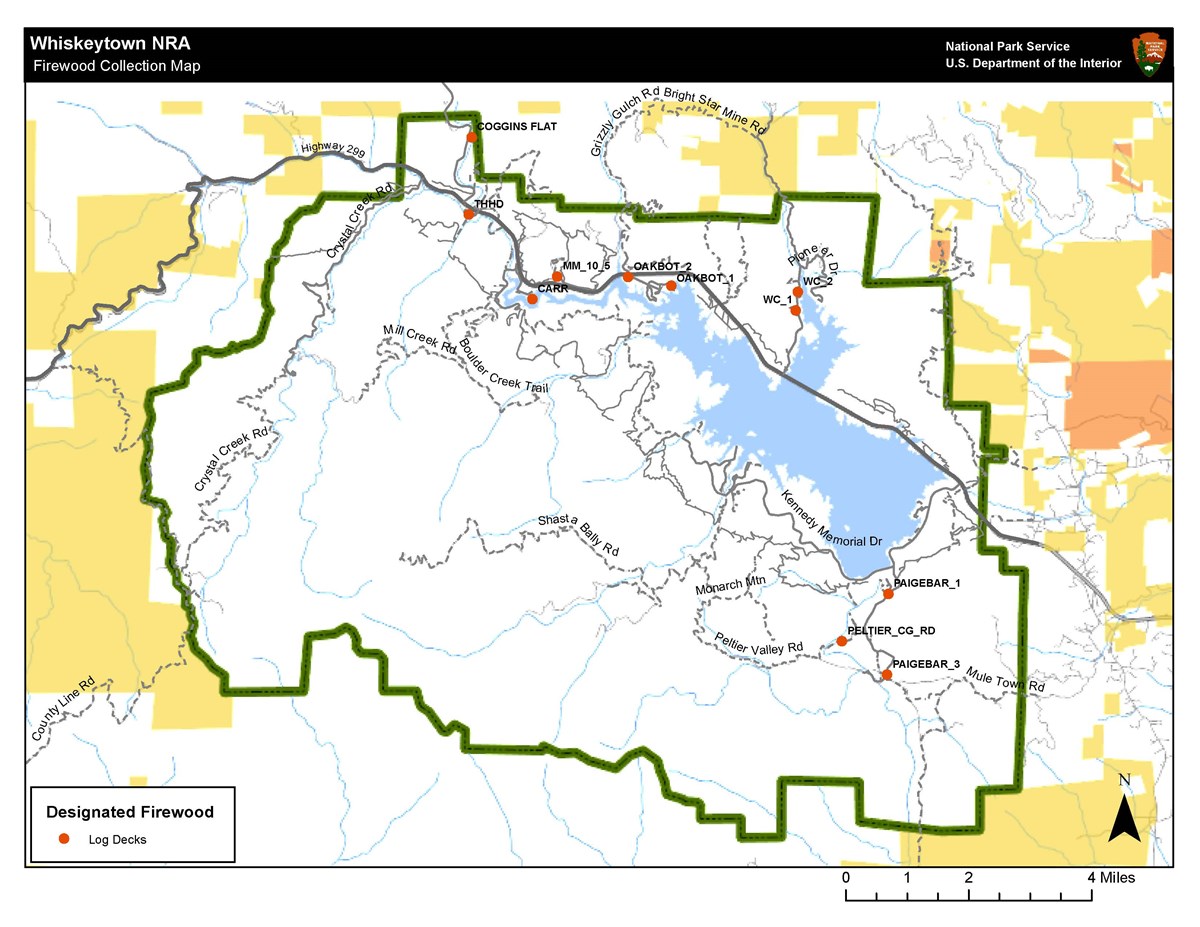 Firewood Collection Map Key

Location

Map Abbreviation

Wood Type

Special Conditions for Access

Page Bar Road

PAIGE_BAR_1

Mixed pine

Peltier Valley Road

PELTIER_CG_RD

Mixed pine

Road closed until March 4 for bridge repair.

Paige Bar Road

PAIGE_BAR_3

Mixed pine

Mile marker 10.5 on Highway
229 West

MM_10.5

Mixed pine

Access only on two Saturdays: March 20 and 27
from 9:00 a.m. to 3:30 p.m. Monitored by staff.

Carr Powerhouse at end of old
Highway 299

CARR

Mixed pine

Tower House Historic District – gate
in front of Camden House

THHD

Oak/Ponderosa

Access only on two Saturdays: March 13 and 27
from 9:00 a.m. to 3:30 p.m. Monitored by staff.

Coggins Flat – located on Trinity Mountain
Road one mile north of Highway 299 junction

COGGINS FLAT

Mixed pine

Access on foot only; wheelbarrow recommended.

Oak Bottom entrance

OAKBOT_02

Mixed pine

Oak Bottom Marina parking lot

OAKBOT_01

Mixed pine

Whiskey Creek Road – up the driveway
at property # 12082

WC_1

Mixed pine

Whiskey Creek boat launch parking lot

WC_2

Mixed Pine
Last updated: September 29, 2021