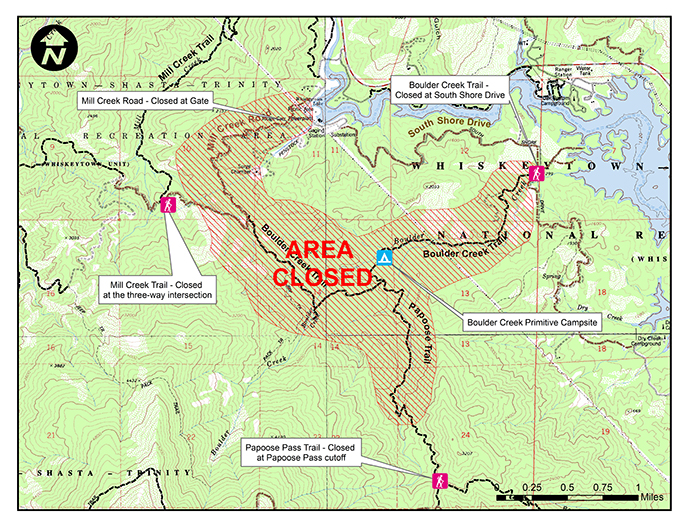 News Release Date:
May 30, 2014
Contact: Sean Denniston, (530) 242-3445
Beginning June 2, 2014 and continuing through approximately July 18, portions of Whiskeytown National Recreation Area will close to provide for the safety of visitors as the park implements the Boulder Creek Forest Restoration project. A map of the closure areas will be posted at the Visitor Center and at selected access points throughout the park.The following campsites, roads and trails are to be closed during this period:
Campsite:Theprimitive campsite at Boulder Creek.
Roads:Mill Creek Road, from South Shore Drive.
Trails:The Boulder Creek Trail between the South Shore Drive and Mill Creek Road trailheads;Mill Creek Trail between the Mill Creek Road Trailhead and the three-way intersection adjacent to Mill Creek; and the Papoose Pass Trail at the Papoose Pass cutoff.Boulder Creek Falls will not be accessible during this project.
The overall goal of this project is to restore approximately 46-acres of forest and oak woodland in the Boulder Creek watershed through the use of small-scale logging.Park staff have collaborated with Humboldt State University and University of Montana and determined that the combination of fire suppression and timber extraction has transformed these plant communities into an unnaturally dense condition.In some areas, this shift in forest structure has resulted in an overall decline of ecosystem condition, which could lead to decreased productivity, higher susceptibility to disease and insect attacks, and increased risk for stand replacing fire events.Lacking intervention, the historically dominant oak woodland/ponderosa pine forest will not regenerate under current conditions.
Recognizing how substantially these forests have changed within such a short amount of time, park managers have developed a restoration strategy.Low intensity prescribed fire is highly effective in removing Douglas-fir seedlings, but is not effective in reducing the Douglas-fir which have encroached over the past 70 years.Therefore, mechanical equipment is often needed to remove the larger, more fire-resistant Douglas-fir prior to the use of prescribed fire. In doing so, the park hopes to reduce the adverse impacts associated with future fire events, improve the health of the old growth oaks and large diameter conifers, and to facilitate future prescribed fire operations.In 2010, park staff implemented a similar forest restoration project in the Brandy Creek watershed along the Brandy Creek Falls Trail, between Sheep Camp and the Brandy Creek Falls trailhead.
Please check the park website for the most up-to-date information including our forest restoration page about closures and additional information related to this project.