Park Closures at Whiskeytown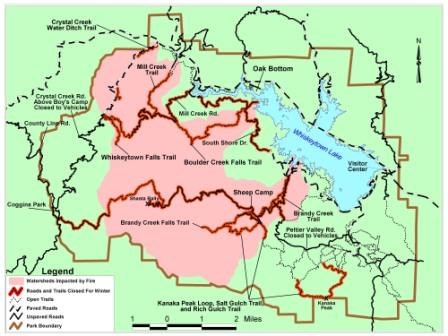 Keeping Our Visitors Safe!
(updated 2-25-09)
With the arrival of the first significant storm the National Park Service closed many of its trails and roads that were impacted by this summers wildfires. Over 6,244 acres burned on the rugged slopes of Shasta Bally in highly erosive soils. The potential for large scale mudslides and debris flow is high.
These areas will be evaluated on a regular basis, but visitors should expect these closures to remain in effect during the wet season.
Download Closure Brochure & Map
Trail Closures:
Brandy Creek Falls
Boulder Creek Falls
Mill Creek Trail
James K. Carr (Whis Falls) (CLOSED - bridge wash out)
Crystal Creek Water Ditch (temporarily re-opened)
Crystal Creek Falls (temporarily re-opened)
Salt Gulch
Rich Gulch
Upper Kanaka Loop

Campgrounds/Picnic Sites Closures:
Boulder Creek
Crystal Creek
Sheep Camp
Brandy Creek
Brandy Creek Picnic Area

Road Closures:
Crystal Creek Road above Boys Camp (normal winter closure)
South Shore Drive
Brandy Creek Road
Mill Creek Road
All of Shasta Bally Road (in addition to normal winter closure from Sheep Camp to Summit)
Queen Mary Road

Where Can You Go
Many Whiskeytown trails remain open.

Mount Shasta Mine Loop
Davis Gulch Trail
Oak Bottom Water Ditch
Clear Creek Visita
Camden Water Ditch
Peltier Valley Road

Download Closure Brochure & Map
Last updated: August 24, 2019