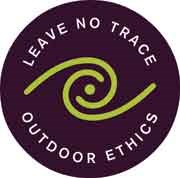 Whiskeytown promotes responsible outdoor recreation. Please take a personal role in perserving the outdoor experience for yourself and future generations while enjoying your visit at Whiskeytown.
1. Plan ahead. Know before you go.
2. Stick to trails.
3. Trash your trash, manage your dog, (pick up poop).
4. Leave it as you find it.
5. Be careful with fire.
6. Keep wildlife wild - don't feed the wildlife.
7. Respect other visitors, share our trails, yield to others.
Leave No Trace is a national education program which promotes minimum-impact practices for non-motorized recreation. The goal of the Leave No Trace program is to promote responsible use of public lands through education, research and partnerships.
For more information visit the Leave No Trace program website - www.LNT.org