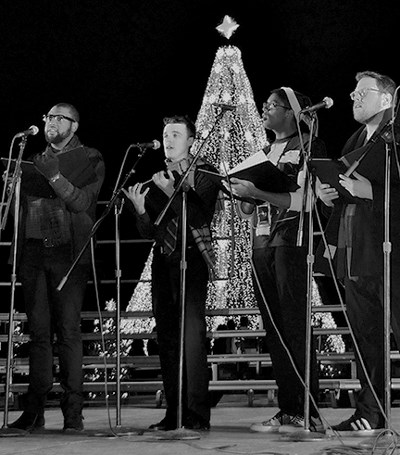 How to Apply
Submit an application to us via fax or email.
Application Period
We are accepting applications on a rolling basis for the 2018 season. Weeknights have the greatest availability.
2018 Performance Dates
Wednesday, December 5-Saturday, December 22. There will be no performances on Monday, December 10 or Monday, December 17.
Selection Process
For the greatest opportunity to perform please select three availability dates.
A selection panel schedules groups at random based on availability dates. We sort applications based on the first preferred date. If a group is not selected for their first choice they then get placed in their second choice date. The group moves to their third choice if not selected for their first two dates.
Saturday and Sunday receive the most requests. If possible please select a weekday as one of your preferred dates.
Performance Information
Performances must be holiday themed and no more than 30 minutes in length. The stage is not covered and is exposed to the elements. The approximate dimensions of the stage are 30 feet wide by 21 feet deep. The size of the group should not exceed 100 people.
A professional sound technician is available on site to assist with set up before the performance. They provide the music equipment including hard-wired microphones and stands, speakers and amplifiers, and a piano. The park provides music stands, chairs, and risers.
If you have questions about the application process or would like to know more about the National Christmas Tree Music Program please contact the Music Program Coordinator.