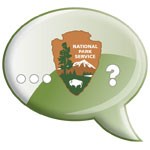 Meet us online.
Wherever you have access to an internet connection, on your smartphone as you roam the park or on a computer across the world, you can visit President's Park.
Find up-to-date information on our website, interact with the park, its staff, and other visitors on social media. You can also download an app to explore the park on your own. We look forward to meeting you, wherever you are - in person or online.
You'll find more information below about our Facebook page, a new official Park Service app covering downtown Washington, DC sites, and our neighboring park, the National Mall.