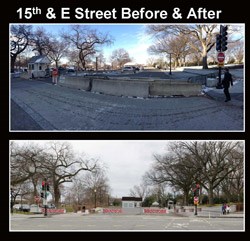 The United States Secret Service (USSS) and National Park Service (NPS) are beginning to implement a series of new, temporary security enhancements and aesthetic improvements for the White House complex. These temporary measures are meant to satisfy security needs while a long-term solution is designed and implemented.
Work will begin on May 8 with E Street NW, followed by the Ellipse and finish with the White House complex fence. Work on the fence is expected to begin in early July. Both agencies will make every effort to minimize construction impacts to visitors.
Changes to E Street NW and the Ellipse provide enhanced protection for the White House while improving the aesthetics at checkpoints, and the temporary design solution for the White House complex fence is meant to improve security while minimizing visual impacts and respecting the significance of the White House.
The NPS and USSS are moving forward with the President's Park South Environmental Assessment (EA), which will address long-term security for the White House complex outside of the fence. The EA is expected to be completed by early 2016. Construction for these long-term measures should begin mid-2017.