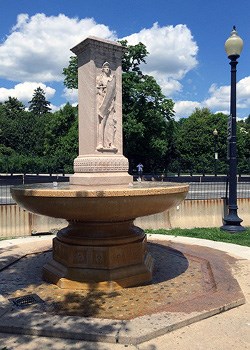 The Memorial
Mystery has surrounded Archibald Butt and Francis Millet ever since their tragic death aboard the RMS Titanic on April 15, 1912. Believed to be the only officials of the United States who perished aboard the ship, Congress passed a joint resolution soon after their death authorizing the construction of a memorial in their honor.
Sculpted by Daniel Chester French, the Butt-Millet Memorial Fountain was the first memorial built on the Ellipse. Both the design and location of the memorial fountain were carefully chosen to represent the two close friends.
Francis Millet
Francis Davis Millet is memorialized on the fountain by a bas-relief sculpture depicting the fine arts. An accomplished painter, sculptor, and writer, Millet served as vice chairman of the Commission of Fine Arts, a committee that has review over the "design and aesthetics" of construction within Washington, DC. The commission is also partly responsible for the design and plan of the National Mall, just a short walk from the fountain. Millet, who was married and a father of three, also had several same-sex relationships in his life.