Butt-Millet Memorial Fountain History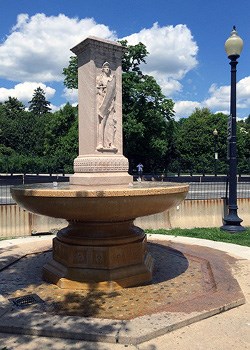 The Memorial
Mystery has surrounded Archibald Butt and Francis Millet ever since their tragic death aboard the RMS Titanic on April 15, 1912. Believed to be the only officials of the United States who perished aboard the ship, Congress passed a joint resolution soon after their death authorizing the construction of a memorial in their honor.
Sculpted by Daniel Chester French, the Butt-Millet Memorial Fountain was the first memorial built on the Ellipse. Both the design and location of the memorial fountain were carefully chosen to represent the two close friends.
Francis Millet
Francis Davis Millet is memorialized on the fountain by a bas-relief sculpture depicting the fine arts. An accomplished painter, sculptor, and writer, Millet served as vice chairman of the Commission of Fine Arts, a committee that has review over the "design and aesthetics" of construction within Washington, DC. The commission is also partly responsible for the design and plan of the National Mall, just a short walk from the fountain. Millet, who was married and a father of three, also had several same-sex relationships in his life.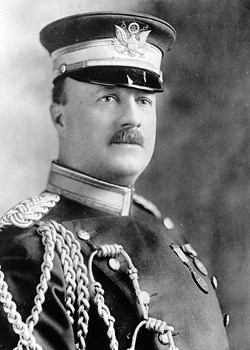 Archibald Butt
Within view of the White House, the memorial fountain is also not far from where Archibald Willingham Butt served as a military aide to Presidents Theodore Roosevelt and William H. Taft. A bas-relief sculpture depicting military valor represents Butt, who was a major in the United States Army. Called "Archie" by those who knew him, Butt was highly thought of by Washington's social and political elite. Known for being one of the most eligible bachelors in all of Washington, Butt never married and mystery surrounded his personal life as well as his death. There were many sensational accounts reported of Butt's last moments aboard the Titanic, yet not one has ever been verified. A Celtic cross memorializes him in Arlington National Cemetery, though his body was never found.
Some historians have asserted that Butt and Millet were involved in a romantic relationship. Millet and Butt were close friends and housemates, often attending social gatherings and parties together. The two had vacationed in Europe together and were returning home to the United States aboard the Titanic. Butt's eulogy in the Washington Times recalled that, "the two men had a sympathy of mind which was most unusual." Noting that Butt was, "mourned by Washingtonians of all walks of life," the article claimed, "None could help admiring either man."
Sources
Boyle, Susan Calafate. Cultural Landscape Report: Site History and Evaluation, 1791-1994, The White House and President`s Park, Washington, DC. Washington, DC: National Park Service, 2001.
Brewster, Hugh. Gilded Lives, Fatal Voyage: The Titanic's First-Class Passengers and Their World. New York: Random House, 2012.
Palmer, Leigh. "Death of Major Butt Mourned by Washingtonians" Washington Times. April 19, 1912, 2.
The Fountain in Memory of Francis Davis Millet, Archibald Willingham Butt. Washington, DC: 1913.
Last updated: October 25, 2018