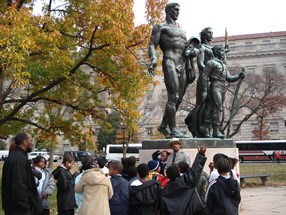 President's Park offers students and educators a number of opportunities to explore the political and cultural history of the United States of America. As a home, an office, and a showplace for American craftsmanship, the White House mirrors and magnifies broad social trends. It is also a popular location for individuals and causes to petition the government, a hallmark of the American democratic experiment.
Plan a field trip to help students better understand the symbolic and political role of the White House.
Teacher workshops are a great way for educators to build knowledge and skills to bring back to their classrooms.
Questions? Please e-mail us or call 202-208-1631.

Please note that enrolling in or inquiring about an education program at President's Park is unrelated to making arrangements to tour the White House.