For Teachers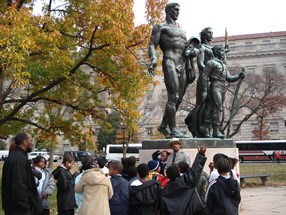 President's Park offers students and educators a number of opportunities to explore the political and cultural history of the United States of America. As a home, an office, and a showplace for American craftsmanship, the White House mirrors and magnifies broad social trends. It is also a popular location for individuals and causes to petition the government, a hallmark of the American democratic experiment.
Plan a field trip to help students better understand the symbolic and political role of the White House.
Teacher workshops are a great way for educators to build knowledge and skills to bring back to their classrooms.
Questions? Please e-mail us or call 202-208-1631.

Please note that enrolling in or inquiring about an education program at President's Park is unrelated to making arrangements to tour the White House.
Can't join us here?
Nationwide, the National Park Service also offers curricular materials and opportunities for professional development through programs like Teaching with Historic Places and Teacher-Ranger-Teacher.
The Teaching with Historic Places program uses the idea of "place" to help students tackle topics in history, civics, social studies, geography, and other areas.
Linking Title 1 school districts with local park units, the Teacher-Ranger-Teacher program offers teachers the ability to work (and sometimes live) in a national park. Teachers support park staff and develop programs based on their interests and park needs.
Whether you visit us here in Washington, DC, or visit us only online, we hope you will explore the many opportunities to use your national park system in the classroom.


Last updated: October 23, 2018