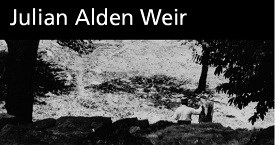 Julian Alden Weir (1852 - 1919)
Son of Robert Walter Weir and Susan Baynard Weir, Julian Alden Weir would formally study art at the National Academy of Design (New York) & Les Ecole Beaux Arts (Paris) before settling in New York City. Julian bought 153-acres of property in Branchville, CT in 1882 and began the artistic legacy at Weir Farm National Historic Site.
See a map of institutions that own artwork by Julian Alden Weir.