Visitor of the Month - May 2015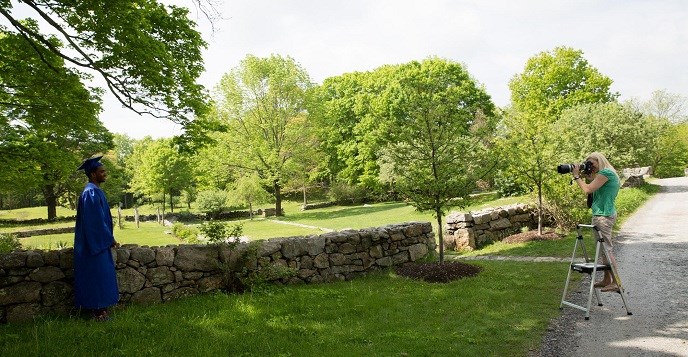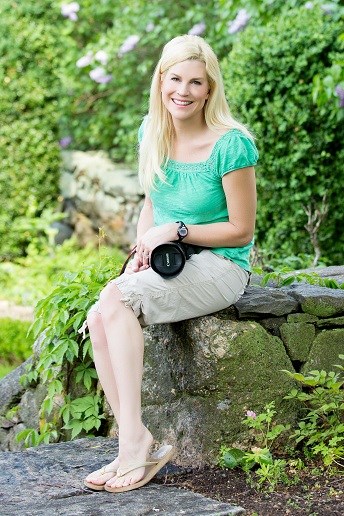 May 2015 Visitor of the Month: Karen Morneau
May is always "picture perfect" at Weir Farm National Historic Site, which makes it ideal to have Wilton-based photographer Karen Morneau as the park's Visitor of the Month! As one of the park's eight permitted photographers,
Karen particularly likes to photograph families, graduates, and kids in natural surroundings. She loves bringing her subjects to Weir Farm National Historic Site because "the park provides a perfect backdrop".
When asked to think about her first visit, Karen recalls coming to scout for potential photo shoots and falling in love with the park the "second I entered the visitor center". She thought that the park presented itself as just a few historic buildings, but was astounded by the scope and beauty of the grounds. Much as the Weirs discovered generations ago, Karen realized that this place, which lends itself so well to the medium of painting and sketching, provides equal inspiration for photography.
Between the spring and the fall, Karen visits multiple times a week. She adores bringing local families here and sharing the park's wonders with people that have never visited. Personally, she loves seeing the artists painting in the landscape and said she "always seems to discover something new". Her favorite spots are the apple orchards. Karen loves the way the light affects the colors in the apple orchards "especially in the fall".
Looking back at her visits to the park, Karen's favorite memories come from last year's Grand Opening of the Weir House, Weir Studio, and Young Studio. Like many of the park's visitors Karen had only seen the exterior of these historic buildings; "touring the Weir House and the studios was something I looked forward to ever since my first visit to the park." During the Grand Opening, Karen loved learning more about the park, and meeting so many members of the families that lived here and helped make this a National Park.
Karen has loved all the national parks she has visited, but has a particularly cherished childhood memory of being in a park in Colorado and seeing snow on the ground in July.
Today, Karen is a professional photographer who has lived in Wilton for the past 12 years with her husband, three children, and a plethora of pets (the Weir family could relate). Aside from photography, Karen also loves cooking, gardening, and skiing with her family in Vermont.
From all of us here at Weir Farm National Historic Site, thank you Karen for being a fantastic ambassador for the park! Just as the Weirs, Youngs, and Andrews would bring people here to share in the beauty of the world atop Nod Hill, you have shared your love for this place with so many families all over the area. We wish you nothing but picture perfect days whenever you visit.
Last updated: July 4, 2015