Register Now for Poetry of Painting Walk at Weir Farm National Historic Site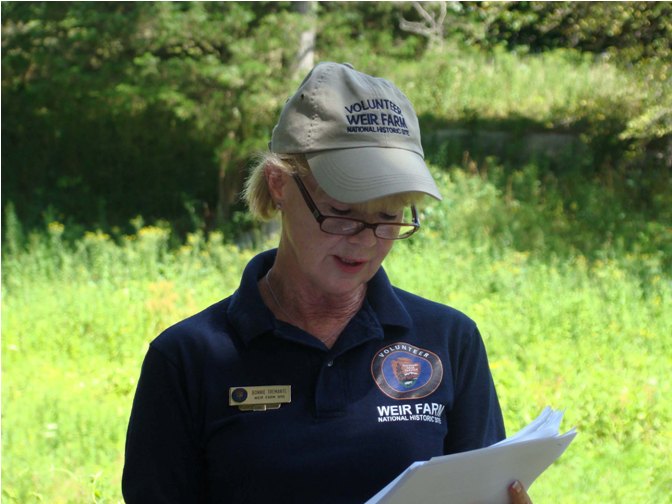 News Release Date:
July 31, 2014
Contact: Registration Line, 203-834-1896 ext. 28
Register Now for Poetry of Painting Walk at Weir Farm National Historic Site


Wilton and Ridgefield, Connecticut:

On Saturday, September 13 from 10:00 to 11:00 am, enjoy a leisurely stroll around the landscape of Weir Farm National Historic Site as you listen to poetry inspired by the paintings of Julian Alden Weir. The poetry, composed by local scholar and volunteer Bonnie Tremante, captures the mystical and illusionary qualities of the landscape that caused J. Alden Weir to refer to his Branchville farm as 'The Land of Nod' - the magical place of sleep and dreams. There is no fee to participate in the walk, but registration is required and space is limited. To register for the Poetry of Painting Walk, or for more information, please call 203-834-1896 ext. 28.

Bonnie Tremante graduated with a B.A. in English from Pennsylvania State University, an M.A. in Reading and Language Arts from Montclair University, and earned a Humanities and Writing Certificate of Advanced Study from Wesleyan University. She taught for 14 years in the Wilton Public School system in the English Department. Bonnie continues to explore her love of literature and art by volunteering at Weir Farm National Historic Site, where she enjoys transcribing historic letters, staffing the historic studios as a Studio Docent, and presenting special interpretive programs. 

Weir Farm National Historic Site was home to three generations of American artists. Julian Alden Weir, a leading figure in American art and the development of American Impressionism, acquired the farm in 1882. After Weir, the artistic legacy was continued by his daughter, painter Dorothy Weir Young and her husband, sculptor Mahonri Young, followed by New England painters Sperry and Doris Andrews. Today, the 60-acre park, which includes the Weir House, Weir and Young Studios, barns, gardens, and Weir Pond, is one of the nation's finest remaining landscapes of American art.

Last updated: February 26, 2015