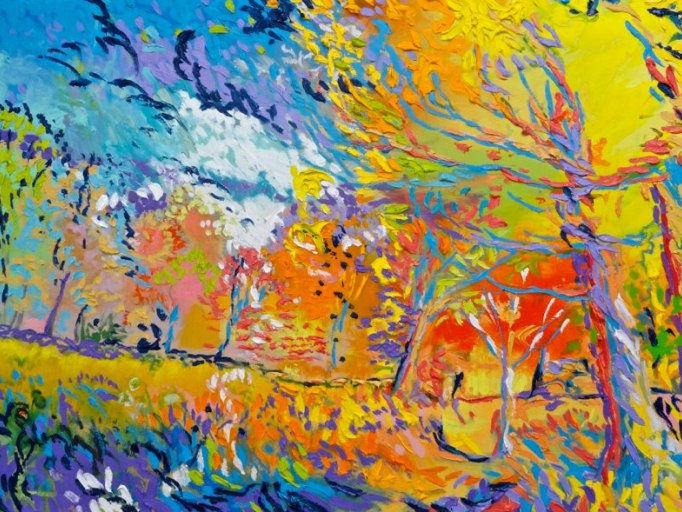 News Release Date:
March 22, 2013
From April 3rd through July 7th, 2013 the work of modern-day American Impressionist painter Dmitri Wright of Greenwich, CT will be on exhibit at Weir Farm National Historic Site. His exhibition, Impressions of Light, includes paintings inspired by the park and his other plein air experiences. Dmitri Wright has a long history with Weir Farm National Historic Site, having led the park's Impressionist Painting Workshops since 2009 as Master Artist/Instructor. Continuing in the vein of Weir Farm's first American Impressionists, Mr. Wright's pieces for this exhibit were drawn "full-scale on location" in order to more truly express, "what is happening…behind nature."
As Master Artist/Instructor at Weir Farm National Historic Site, Mr. Wright seeks to "help others fulfill their unique gifts through the creative process, by helping them connect with their natural ability and adding to that the technical knowledge of their chosen school or schools of art." Mr. Wright's selection of plein air pieces furthers these goals: "I have tried to communicate visually my experience of how light changes the way matter appears to me and how light refracted affects color as if it moves the viewer," said Mr. Wright. "I have tried to stay true to the legacy handed down to me, so as to pass onto those I instruct so they may create work expressing their own voice something that is beautiful, good and true."
The exhibit can be viewed in the Burlingham House Visitor Center Wednesday through Sunday from 10:00 a.m. to 4:00 p.m. Three gallery talks titled American Impressionism & Plein Air will be held at 2 p.m. on Sunday April 7th, Saturday May 4th, and Sunday June 9th. Mr. Wright will discuss the challenges and rewards of plein air painting, and will use Weir Farm National Historic Site's unique setting to discuss the history behind, and future of, American Impressionism. Participation in these gallery talks is free, but space is limited and registration is required. To register or for more information, please call (203) 834-1896 ext. 28.
Dmitri Wright has exhibited his works at the National Museum of Sport, the Old Town Hall Museum of Stamford, the Greenwich Historical Society, the Brooklyn Museum and more. He received formal education from the Cooper Union, the Max Beckman International Fellowship - Brooklyn Museum Art School, and the Newark School of Fine & Industrial Arts. He has travelled extensively throughout the United States and Europe, and his work appears in the collections of public museums, private corporations, and countless national and international private collectors.
To find out more about Dmitri Wright and his work, visit www.dmitriwright.com or call (203) 832-3325.


Weir Farm National Historic Site, the only National Park Service site dedicated to American painting, was home to three generations of American artists including Julian Alden Weir, a leading figure in American art and the development of American Impressionism. Today, the 60-acre park, which includes the Weir House, Weir and Young Studios, barns, gardens, and Weir Pond, is one of the nation's finest remaining landscapes of American art. For more information about Weir Farm National Historic Site, please visit www.nps.gov/wefa or call (203) 834-1896.