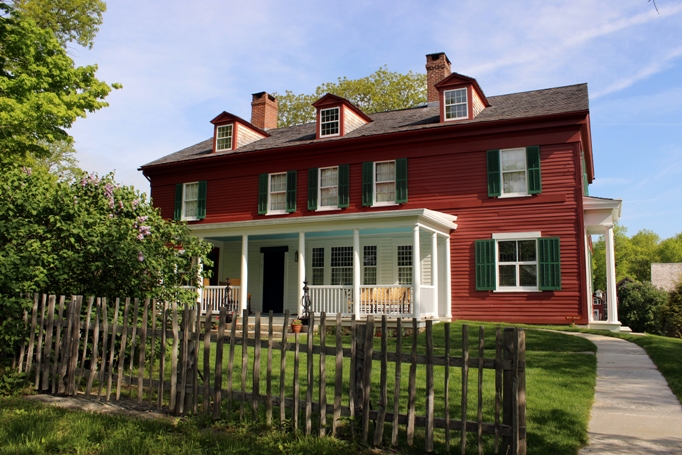 News Release Date:
April 26, 2015
Wilton and Ridgefield, CT:
A new National Park Service (NPS) report shows that 34,083 visitors to Weir Farm National Historic Site in 2014 spent $1.9 million in communities near the park. That spending supported 23 jobs in the local area and had a cumulative benefit to the local economy of $2.6 million.
"Weir Farm National Historic Site welcomes visitors from down the road, across the country and around the world," said Superintendent Linda Cook. "People come to the park to experience something unique. Weir Farm is the only national park dedicated to painting and the closest national park for many Connecticut residents. Places like Weir Farm National Historic Site inspire us, give us the chance to get outside and play, and support our local economy. National park tourism and recreation are significant drivers in the national economy too, returning $10 for every $1 invested in the National Park Service. We appreciate the support of our partners, friends, and neighbors and are glad to be able to give back to local communities."
The peer-reviewed visitor spending analysis was conducted by U.S. Geological Survey economists Catherine Cullinane Thomas and Christopher Huber and National Park Service economist Lynne Koontz. The report shows $15.7 billion of direct spending by 292.8 million park visitors in communities within 60 miles of a national park. This spending supported 277,000 jobs nationally;235,600 of those jobs are found in these gateway communities. The cumulative benefit to the U.S. economy was $29.7 billion. 
According to the 2014 report, most park visitor spending was for lodging (30.6 percent) followed by food and beverages (20.3 percent), gas and oil (11.9 percent), admissions and fees (10.2 percent) and souvenirs (9.9 percent).
To download the report visit https://www.nature.nps.gov/socialscience/economics.cfm
The report includes information for visitor spending at individual parks and by state.
To learn more about national parks in Connecticut and how the National Park Service works with Connecticut communities to help preserve local history, conserve the environment, and provide outdoor recreation, go to www.nps.gov/ct
About Weir Farm National Historic Site. Weir Farm National Historic Site was home to three generations of American artists. Julian Alden Weir, a leading figure in American art and the development of American Impressionism, acquired the farm in 1882. After Weir, the artistic legacy was continued by his daughter, painter Dorothy Weir Young and her husband, sculptor Mahonri Young, followed by New England painters Sperry and Doris Andrews. Today, the 60-acre park, which includes the Weir House, Weir and Young Studios, barns, gardens, and Weir Pond, is one of the nation's finest remaining landscapes of American art. Learn more at www.nps.gov/wefa. 
About the National Park Service. More than 20,000 National Park Service employees care for America's 407 national parks and work with communities across the nation to help preserve local history and create close-to-home recreational opportunities. Learn more at www.nps.gov. 
For more information about Weir Farm National Historic Site, please:
Visit us @ www.nps.gov/wefa
Call us @ 203-834-1896 
Like us on Facebook @ www.facebook.com/WeirFarmNHS
Follow us on Instagram @ WeirFarmNHS
Subscribe to us on YouTube @ www.youtube.com/user/WeirFarmNHS