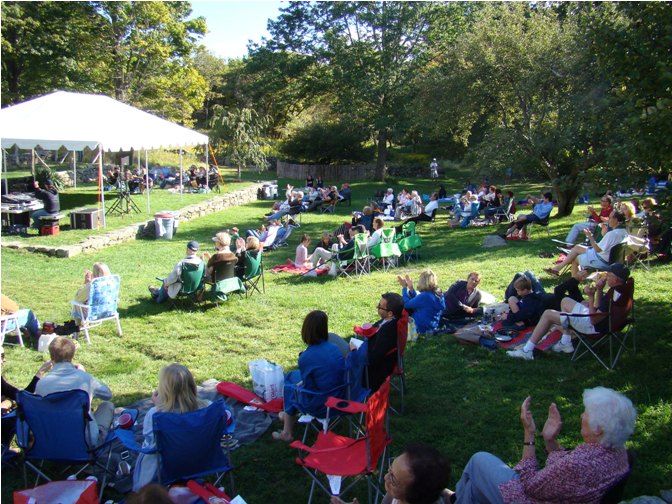 News Release Date:
August 17, 2014
Contact: Weir Farm Art Center, www.jazzatweir.com
Wilton and Ridgefield, Connecticut:  Jazz in the Garden returns featuring the acclaimed Brubeck Institute Alumni Quintet, with a special appearance by Wilton High School's own Black Tie Affair on Sunday, September 7 from 3:00 to 5:00 pm. Sponsored by the Weir Farm Art Center and hosted by Weir Farm National Historic Site, Jazz in the Garden receives generous support from Bankwell of Wilton and the Karen and William Tell Foundation, with special thanks to Catherine and Ed Romer. Proceeds benefit the Artist-in-Residence program managed by the Weir Farm Art Center, which draws talented artists from around the world, giving them a chance to create in the inspirational landscape of Weir Farm National Historic Site.

Janice Hess, Executive Director of the Weir Farm Art Center, says everyone is excited about adding new generations to the Jazz in the Garden family. She goes on to reveal, "At intermission, watch for a presentation to the Wilton High School Music Department in honor of Dave and Iola Brubeck, who encouraged so many aspiring jazz artists over the years, and Chris and Tish Brubeck, who continue to do so."

The Brubeck Institute Alumni Quintet, with Glenn Zaleski on piano, Chris Smith on bass, Brian Chahley on trumpet, Lucas Pino on tenor saxophone, and Colin Stranahan on drums, will be making its debut performance at Weir Farm National Historic Site.  

Chris Brubeck remarks, "The Brubeck Family has enjoyed a long and joyful musical relationship with the Weir Farm's Jazz in the Garden series. Whenever it is possible with their touring schedule, the Brubeck Brothers Quartet has enjoyed playing at the annual fall event. Last year we were playing the venerable Monterey Jazz Festival in a tribute to Dave Brubeck, and the year before that, we were touring Russia. This year the group and I also had scheduling conflicts, but I was able to help arrange for the Brubeck Institute Alumni Quintet to play at Jazz in the Garden.

These fine young musicians are graduates from a musical jazz studies program started by Dave and Iola Brubeck through the University of the Pacific, their alma mater. Each musician (as a high school-aged player) had already earned a national reputation as being an outstanding talent on his respective instrument. While completing the 2-year program at the Brubeck Institute, these players honed their already formidable skills with performances at venues such as the Monterey Jazz Festival and the Playboy Jazz festival at the Hollywood Bowl. Downbeat Magazine has given numerous awards to the Brubeck Institute Fellows, recognizing these young musicians as forming some of the best jazz combos in America. All members of the Brubeck Institute Alumni Quintet are graduates who now have years of professional experience in the heart of the jazz scene in New York. They were featured at Dizzy's Club at Jazz at Lincoln Center in April 2014. Recently pianist Glenn Zaleski received a glowing review for his group from the New York Times. My father knew, mentored, and helped choose all of these fine young musicians -- he knew exceptional talent when he heard it. These alumni from the Brubeck Institute are a wonderful extension of the Brubeck family's musical legacy and they are sure to impress the audience gathered to enjoy Jazz in the Garden this September 7, 2014."

Glenn Zaleski, of the Brubeck Institute Alumni Quintet, adds, "Dave Brubeck and his music brought us together, and the legacy of the Brubeck family is continued inspiration in our daily pursuits as musicians and people. It is always an honor to return to Wilton, a community especially aware of the significance of the Brubecks, and we look forward to bringing our music for the first time to Weir Farm's Jazz in the Garden series."

This event joins the efforts of the National Park Service, the Weir Farm Art Center, international artists and musicians, and community and school supporters to create an inspiring afternoon with friends in the garden.

To preserve and protect the park, all parking for the event will be at the Branchville Elementary School at 40 Florida Road, Ridgefield.  Free shuttles will run to and from Weir Farm National Historic Site continuously between 2:00 and 6:00 pm. No parking is available at Weir Farm National Historic Site or along roads near the park. For more information and to purchase tickets online, go to:  www.jazzatweir.com

Tickets, if still available, also will be sold the day of the event. Cash, check, and credit cards will be accepted. Adult tickets are $20. Tickets for students 13-18 are $10. Children 12 and under are free. As usual the concert will go on rain or shine.

Jazz in the Garden is held in memory of Les Young, a long-time Weir Farm Art Center supporter, education advocate, and State Representative from New Canaan.