June 14, 2013 
            Phewf! What a day! I could barely bring myself to get out of bed on this unfairly-frigid-for-June morning and amble on over to Weir Farm National Historic Site. The school field trip, Discovery Magnet from Bridgeport, was still on their way but it looked as if they would be greeted by grey skies and drizzles. 
            These less than ideal conditions, however, were powerless to dampen the spirits of our young visitors, who enthusiastically embarked on their watercolor session with Marc Chabot and park tour with Ranger Kristin. Then, amazingly, the clouds parted and the sun burst out around midday, just before paintbrush limbo. The lethargy of the morning evaporated, and everyone joined in a rambunctious chorus of "Limbo, limbo, limbo! Do the paintbrush limbo!" If anyone had told me that my internship would involve holding one end of a giant paintbrush for a string of flexible, back-bending second graders, I would have laughed, but it truly exemplifies what a special environment Weir Farm National Historic Site is, not just the beautiful scenery and historical significance of the grounds, but also the wonderful people who work and volunteer their time here to ensure that it remains a spot for education and enjoyment.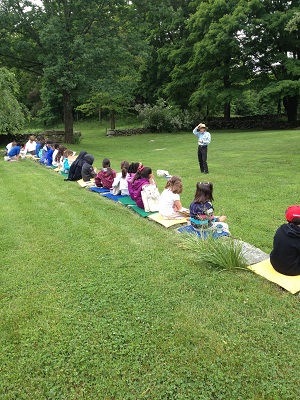 Our limbo-ers school bus was exceptionally late, but thanks to Kristin's equally exceptional powers of diversion, no one even seemed to notice. I stood outside in the sun and chatted for a while with Marc, who has been involved with Weir Farm National Historic Site since the time of the Andrews. My favorite part of being here has been spending time with people like him, who genuinely love what they do. It is so rare to find these days, which makes it even more inspiring to meet someone truly impassioned. 
            Happy weekend, everyone!