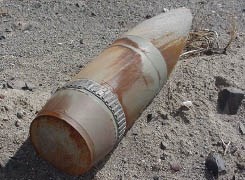 Caution: Do not disturb any ammunition that you may find on or off shore. It is extremely dangerous and may detonate at any time. Report its location to a ranger, who will have it removed by qualified personnel.
Call 911 to report unexploded ordnances.
Provide the following information to the responding agency, as soon as possible and as best you can without approaching the suspected military munition:
Individual making report and others present (names, organizations)
Location (address and coordinates, if available)
Munition condition (buried, partially buried, exposed)
Estimated size of munition (length, width, height)
Suspected type of munition (projectile, mortar, rocket, grenade or bomb)
Any markings and color coding on the munition (use binoculars, do not approach munition)
Nearby structures (landmarks, names, types, distance from munition)
Record munition (send photo to responder, if possible)
Isolation (inform responding agency that the area has been isolated)
See the Department of Defense's UXO Safety page.