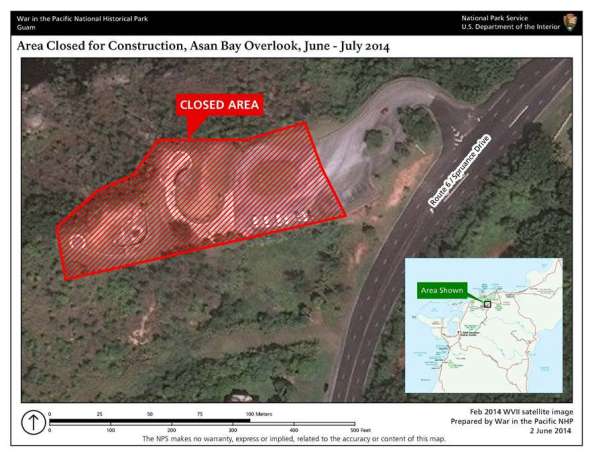 News Release Date:
June 2, 2014
Contact: Ben Hayes, 671-477-7278 Ext.1007
Construction to rehabilitate the War in the Pacific National Historical Park Asan Bay Overlook Memorial Wall will begin on Wednesday, June 4. To ensure visitor safety and provide space for construction equipment, the memorial wall, sidewalks, view sheds, pavilion, and half the parking lot will be closed to the public through mid-July. Construction includes removal of 56 bronze and 34 acrylic panels inscribed with the names of those who died or suffered during the occupation and Liberation of Guam and replacement with 103 new panels with 17,771 names etched into black granite.  
According to Superintendent Jim Richardson, "We're making great progress on this project and plan to unveil the new and improved Asan Bay Overlook Memorial Wall during the 70th Anniversary Liberation of Guam commemoration events on July 19 and 20. More importantly, it is our mission to welcome veterans, Chamorro survivors, and families of the lost to visit this memorial for generations to come."
Originally completed in 1994, the Asan Bay Overlook Memorial Wall was damaged by theft in 2007. The renovation will add an additional 1,629 names to the wall.
                                                           – NPS –