Climate Friendly Kids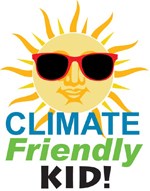 The Climate Friendly Kids program was inspired in part by the need to enlist our local youth to care about the natural places surrounding them, and by the recent achievement of the Flagstaff Area National Monuments designation as a Climate Friendly Park. In the spring of 2013, Flagstaff Area National Monuments partnered with Willow Bend Environmental Education Center to receive the America's Best Idea grant from the National Park Foundation aimed at educating local youth about sustainable practices in the monuments and how to apply this to their daily lives.
Three local (Flagstaff, AZ) third and fourth grade classes received classroom programs and field trips to all three monuments. Each class completed a service learning project and designed posters to show what the Flagstaff Area National Monuments are doing to be a Climate Friendly Park. The posters are on display in the monuments visitor centers. At the completion of the program, all three classes attended a graduation ceremony and were sworn in as the first ever graduating class of Climate Friendly Kids.
View photo galleries of the student's posters and images from the program below.
Last updated: March 20, 2015