8-27-07 Washita Battlefield National Historic Site Visitor Center Now Open to Public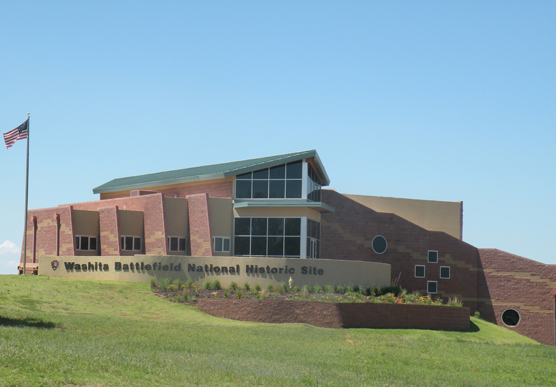 News Release Date:
August 27, 2007
On Saturday, August 25, 2007, the U.S. flag was raised for the first time at Washita Battlefield National Historic Site's new visitor center. "The raising of the flag signaled that we are open for business and is particularly significant on this anniversary date of the establishment of the National Park Service" stated Park Superintendent Wendy Lauritzen. The split level building that serves as both a visitor center (upper level) and shared administrative offices (lower level) with the USDA Black Kettle National Grasslands is still being moved into by both agencies. "Our focus was to first get the building to be operational to best meet the needs of the visitors to the area," continued Lauritzen. The upper level visitor center is now open 7-days a week from 8 am to 5 pm. The 27-minute film, "Destiny at Dawn: Loss and Victory on the Washita" is available for viewing, along with a fully functional bookstore, temporary exhibits, and a grand view over the landscape where the Nov. 27, 1868 attack on the Cheyenne village along the banks of the Washita River occurred. Rangers are available for providing programs upon request, depending on staffing availability. 
The National Park Service staff at Washita began their move from their previous headquarters office in downtown Cheyenne to the new facility on Hwy 47A on August 17. Offices and new operations are still being settled into.  The final move of the USDA into their offices and permanent exhibits into the building will occur over the next couple of months.  
-- NPS --