Date:
June 22, 2009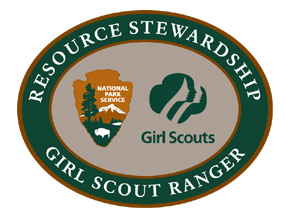 Washita Battlefield National Historic Site Announces Resource Stewardship Girl Scout Ranger Program
Acting Chief of Interpretation, Kathryn Harrison announced today that a new program for youth has been developed in coordination with the Girl Scouts of the United States of America (GSUSA). The National Park Service (NPS)/Girl Scouts of the United States of America Resource Stewardship (Girl Scout Ranger) program is a NPS - tailored certificate/patch program launched this summer. It is designed to engage Girl Scouts in educational, volunteer service or other action projects in national parks and is a component of the GSUSA's Elliot Wildlife Values Project Linking Girls to the Land program.
Through participation in this program, girls discover a lot about themselves and the uniqueness of national park sites and what they help preserve. Girls connect by working with National Park staff or volunteers and each other to determine what they can do to help protect these resources – and girls take action implementing projects that develop them into leaders.
For additional information on this program, please contact Christal Allen, Park Guide at Washita Battlefield National Historic Site at 580-497-2742 or visit: www.nps.gov/gettinginvolved/youthprograms/girlscoutrangerprogram.htm