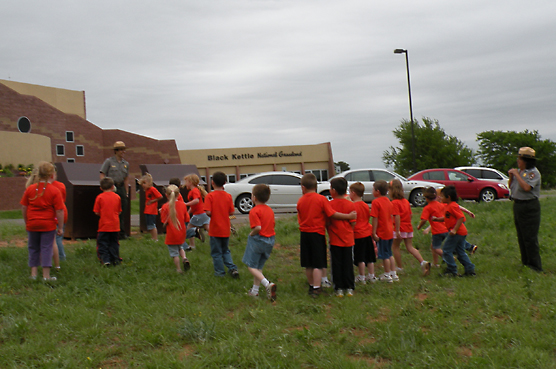 News Release Date:
May 13, 2008
Summer Operations Begin at Washita Battlefield National Historic Site
Beginning with the Memorial Day weekend on Saturday, May 24, 2008, Washita Battlefield National Historic Site will offer regularly scheduled weekend interpretative talks at the park's overlook. On Saturdays and Sundays throughout the summer, the talks will start at 9, 10 and 11:00 am and at 2, 3, and 4:00 pm. This schedule will be followed through the Labor Day weekend.
In addition to the talks, park rangers will lead walking tours along the interpretive trail beginning at 9:30 am each Saturday between Memorial Day and Labor Day weekends. The 1 1/2 hour-long guided tours will start from the park overlook. Those attending the 9:00 am talk will be finished in time to join the walking tour if they choose. The walking tours are also available at 9:30 am on other days of the week, depending on the availability of staff. Please call 580-497-2742 to arrange weekday programs and walks. The mowed grass/dirt walking trail is not currently ADA compliant and can be muddy at times. Enjoy the walking tour by preparing for changing weather and environmental conditions. Wear sturdy walking shoes and bring supplies such as water, hat, jacket, or sunscreen. Items may also be purchased in the town of Cheyenne or the bookstore at the visitor center if you forget to bring your own.
Park Visitation
The visitation at Washita Battlefield National Historic Site has been increasing through the spring with visitors exploring the park's new visitor center and park headquarters on Highway 47A. The month's visitor count for the new visitor center for April was 710 people.
In April, groups visiting the visitor center and historic site ranged from elementary school children to university history students. Visitors in April came from such states as Michigan, California, Kentucky, and Florida, and countries such as Germany, Denmark, and Canada.
National Junior Ranger Day was celebrated on April 26, 2008. The goal of the program is to connect young people to their national parks and to the national park system through a variety of in-park self-initiated activities that are designed to introduce them to the system and cultivate future generations of park stewards. Washita Battlefield NHS has Junior Ranger instruction booklets and the badges that are awarded to recipients upon completion of the assignments. 
For additional information about the historic site please visit the park website at www.nps.gov/waba.