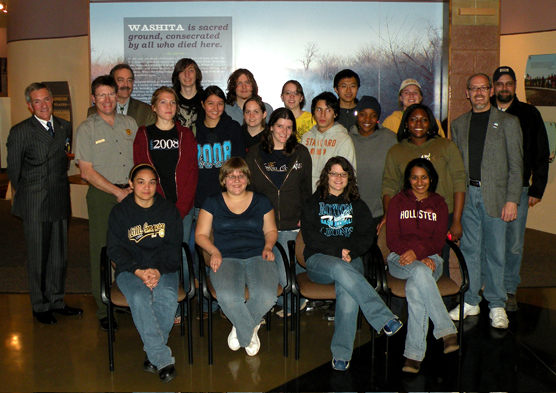 News Release Date:
April 7, 2009
Washita Battlefield National Historic Site Held Successful Event on April 4th     
The staff at Washita Battlefield National Historic Site hosted a successful event on the evening of Saturday, April 4th,that featured renowned scholars Jerome A. Greene, a retired National Park Service Research Historian, and W. Richard West Jr., the founding Director Emeritus of the Smithsonian Institution's National Museum of the American Indian. (Dr. Paul A. Hutton was scheduled to speak, but was unable to attend because of health problems.) Both speakers were warmly received by about 70 park visitors, including a group of Honors students from Texas A & M University–Commerce. The evening concluded with a reception, book signing, and a chance for the audience to visit with the speakers.
Mr. Greene, author of books on the Sand Creek Massacre and the Washita attack, spoke on "Sand Creek to Washita: A Consequential Linkage." He described four tragic years of failed treaties and episodic violence on the southern plains that followed the 1864 massacre of Cheyenne and Arapaho men, women, and children at Sand Creek in Colorado Territory.
Richard West, who is a Cheyenne Chief, spoke on "Native Americans in the 21st Century: Out of the Mists and Beyond the Myth." Reciting a sobering list of statistics, Chief West illustrated the loss endured by American Indians over five centuries. But he also looked optimistically to the future when describing the resiliency of Native people to survive and keep cultural traditions alive.
Professors Dr. John Smith and Jeff Pearson from Texas A & M University–Commerce initiated the event by arranging for their Native American History and U.S. History students to visit the park for the weekend. During the day on Saturday, Jerome Greene and the park staff led the students on an extensive tour of the historic site and surrounding area. Afterward, the students commented to the park staff and to their professors about the profound impact the experience had on them. "On behalf of Dr. John Smith and Texas A & M University–Commerce," Mr. Pearson said, "we would like to say 'thank you' to Jerome Greene and the park staff as well as the community for making our visit a very rewarding experience. Our students learned a lot and had a wonderful time while doing it."
* * *