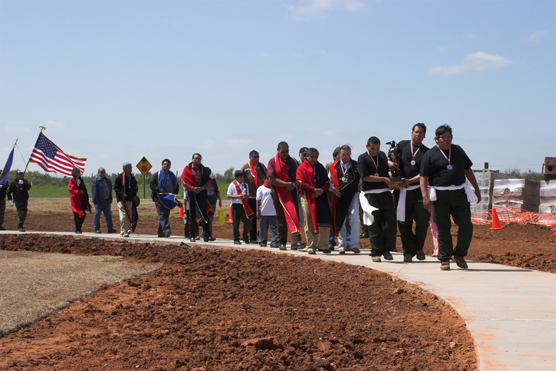 News Release Date:
April 13, 2007
Tribes, Officials, Singers Gather For National Park Service Site Ribbon Cutting
Washita Battlefield National Historic Site, in cooperation with the Black Kettle National Grassland and the Cheyenne and Arapaho Tribes of Oklahoma, will officially dedicate a new cultural heritage center with a special ribbon cutting ceremony at 10:00 a.m. on Friday, April 20. The center is located along Highway 47A just west of Cheyenne, Oklahoma, and will open to the public permanently in early summer.
Washita Battlefield is managed by the National Park Service (NPS) to protect and interpret the site of the Southern Cheyenne village of Peace Chief Black Kettle and the attack on the village launched by the 7th U.S. Cavalry under Lt. Col. George Armstrong Custer on November 27, 1868.
The ribbon cutting ceremony will feature representatives from many of the groups that worked together to create the new center. Before the ceremony begins, Director of the Cheyenne Cultural Center Lawrence Hart will act as the camp crier to announce the ceremony.
Ceremony highlights will include:
A traditional blessing by Gordon Yellowman.

Posting of the colors by the Cheyenne and Arapaho Tribes of Oklahoma Color Guard.

The singing of Flag Songs by Cheyenne and Arapaho singers and a Memorial Song introduced by Moses Starr.

Remarks by State Representative Purcy Walker; State Senator Mike Schultz; Cheyenne mayor Glenna Kirk; Randy Beutler of Southwestern Oklahoma State University; Bob Blackburn, executive director of the Oklahoma Historical Society; Mike Snyder, NPS Intermountain Region Director; Darrell Flyingman, Governor of the Cheyenne and Arapaho Tribes of Oklahoma; former NPS Senior Research Historian Jerome Greene; Dances with Wolves author and Academy Award-winning screenwriter Michael Blake; Cheyenne Chief Lawrence Hart; and Washita Battlefield National Historic Site Superintendent Wendy Lauritzen.

The presentation of a bronze statue of a Southern Cheyenne peace chief by the Roger Mills Arts and Humanities Council and the Washita Battlefield Historical Society.

Music by Cheyenne Elementary School fifth grade and first grade classes.
On the center grounds after the ceremony, representatives of the NPS, U.S. Forest Service, Cheyenne and Arapaho Tribes of Oklahoma, and the Town of Cheyenne will plant four American elm Survivor Tree seedlings from the Oklahoma City National Memorial.
Also after the ceremony, nine authors who have written about Oklahoma history and the American West, including Michael Blake, will sign books and talk with visitors until 3:00 p.m. Talks about Washita and tours of the battlefield site will be available 12:30-4:00 p.m. Continuous shuttle buses will run to the park overlook on Highway 47A and to the rodeo grounds parking area.
Before the ceremony, shuttles will begin transporting people at 8:30 a.m. from the rodeo arena to the new visitor center for the ceremony. It is recommended that visitors arrive by 9:00 a.m. for the 10:00 a.m. ceremony.
-NPS-