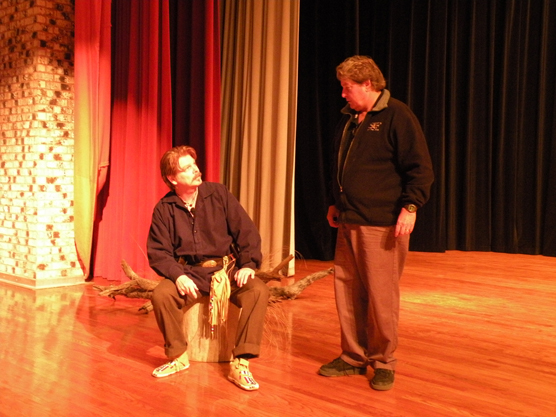 News Release Date:
November 24, 2008
Washita Battlefield National Historic Site and Cheyenne High School to host the Play Ned Wynkoop: Long Road to Washita on December 4
Louis Kraft, a noted western historian and stage actor, will present Ned Wynkoop: Long Road to Washita at 7:00 p.m. on Thursday, December 4. Tom Eubanks will direct the production, which will be staged free of charge to the public in the Cheyenne High School auditorium. The one-man play is part of Washita Battlefield National Historic Site's observation of the 140th anniversary of the Washita attack.
Using Wynkoop's own words, as well as dramatic sound effects and lighting, Mr. Kraft will bring to life a man whose story was enmeshed with the conflict of cultures that led to the tragedy of Washita. "The play explores Edward 'Ned' Wynkoop's life during the 1860s," said Kraft, "a time which saw him evolve from someone who looked down on Indians to a person who accepted them as human beings."
Edward "Ned" Wynkoop  Indian Agent for the Cheyenne and Arapaho
Wynkoop at first "harbored the typical prejudices then prevalent on the frontier," said Kraft. As a young military officer in 1864, however, Wynkoop began to soften his views after he befriended Chief Black Kettle. Major Wynkoop helped organize a peaceful meeting between Cheyenne and Arapaho Chiefs and Colorado Territorial Gov. John Evans and Col. John Chivington, the region's military commander.
But Cheyenne and Arapaho leaders were betrayed two months later at Sand Creek when Colonel Chivington led two regiments of Colorado volunteers on a murderous assault of a peaceful village. Major Wynkoop had been sent out of state and exploded in anger when he heard about the attack.
Wynkoop eventually left the military and became the U.S. Indian Agent for the Cheyenne and Arapaho tribes. Looking out for the interests of his charges during the hostilities of 1867 and 1868, Wynkoop struggled to keep the tribes' young warriors from raiding and to keep the government's word regarding its treaty obligations. During the fall of 1868, Wynkoop became alarmed when he was ordered to gather Cheyenne and Arapaho people in Indian Territory. Believing that this might set up conditions for another massacre, Wynkoop resigned in protest. "I most certainly refuse," he said, "to again be the instrument of the murder of innocent women and children."
Unfortunately, by the time of Wynkoop's resignation, Lt. Col. George A. Custer had already led a strike on November 27 against a slumbering Cheyenne village camped along the Washita River. Chief Black Kettle and his wife, Medicine Woman Later, were among those killed during the attack.
Despite Wynkoop's failure to prevent bloodshed in 1868—when warriors raided white settlements in Kansas and when Custer's troopers attacked Black Kettle's village—he had continually tried to do the right thing. George Bent, a half-Cheyenne survivor of Sand Creek, summed up the work of Ned Wynkoop many years later by calling him "the best friend the Cheyennes ever had."
Louis Kraft – Author and Actor
Louis Kraft became interested in western history in the 1970s and in the decades since he has published many articles and books. In particular, Kraft became intrigued by people whom did not speak the same language, yet worked out their differences peacefully. In 1992, Kraft published The Final Showdown, a novel that explored racial relations in Kansas at the time of the Medicine Lodge Treaty in 1867. In 1995, he published Custer and the Cheyenne: George Armstrong Custer's Winter Campaign on the Southern Plains.
Kraft premiered his play about Edward Wynkoop in Kansas in 2002. He has since staged it in Colorado and California. Mr. Kraft lives in North Hollywood, California, and spends all of his free time with the ladies in his life: sweetheart and best friend Diane Moon and daughter Marissa Kraft.
Tom Eubanks – Director
Tom Eubanks has directed, produced, and acted in over 60 productions. He is the Artistic Director of the Elite Theatre Company in Oxnard, California, and serves on the Executive Committee of the Ojai Art Center Theatre in Ojai, California. He wrote and directed a feature film, Open Spaces, which premiered in 2003, and is the author of the novel Worlds Apart. At the Elite Theatre in 2009, Eubanks will be directing Cheyenne Blood, which features historical personalities such as Ned Wynkoop, Black Kettle, and John Chivington. Mr. Eubanks lives in Casitas Springs, California, with wife Judy and youngest daughter Hannah.
Washita Battlefield National Historic Site
"We are thrilled to be working with the Cheyenne School District to bring a quality production like Ned Wynkoop: Long Road to Washita to the community of Cheyenne," said National Park Service spokesman Dave Schafer. "The fascinating story of Edward Wynkoop is an inspiring example of the difference one person can make in history. We appreciate the Cheyenne school staff for working with the director, actor, and our staff to stage the production."
The park visitor center will be open on Thanksgiving Day, November 27, the actual anniversary of the Washita attack. A full slate of 140th anniversary activities will take place at the park's new visitor center on Saturday, December 6. For more information, call 580-497-2742 or check www.nps.gov/waba.