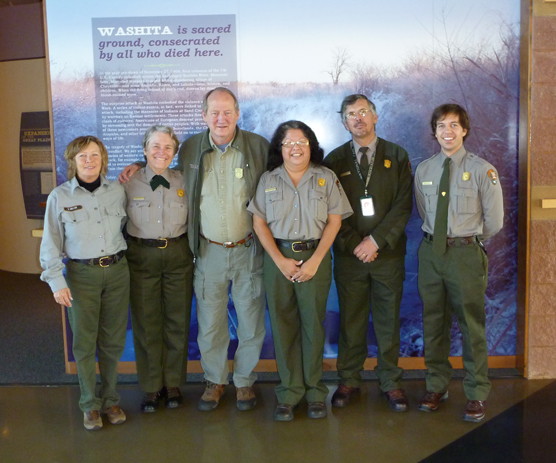 News Release Date:
October 27, 2009
Author/Filmmaker Dayton Duncan Visits Washita Battlefield NHS
On Saturday, October 24th, the staff at Washita Battlefield National Historic Site was pleasantly surprised by a visit from author/filmmaker Dayton Duncan and producer Julie Dunfey, who stopped by the park as they passed through the area on their way to the panhandle of Oklahoma. When asked about the purpose of their trip, Mr. Duncan informed the staff that he and Ms. Dunfey were beginning work on a new project documenting areas affected by the Dust Bowl.
Both Mr. Duncan and Ms. Dunfey have collaborated with documentary filmmaker Ken Burns on several award-winning documentaries such as The Civil War, Mark Twain, and Jazz, as well as the recently aired documentary The National Parks: America's Best Idea.
The honorary park ranger toured the new Visitor Center, talked to the park staff and received information on the dawn attack that took place here on November 27, 1868 on a peaceful village of Cheyenne led by Peace Chief Black Kettle, by the 7th U.S. Cavalry under the command of Lt. Col. George A. Custer.
Before leaving, Mr. Duncan graciously signed books and took photos with park staff. He and Ms. Dunfey plan to spend five days in the Oklahoma panhandle to work on fifteen interviews for their new project The Dust Bowl, scheduled for release in 2012.