Native Garden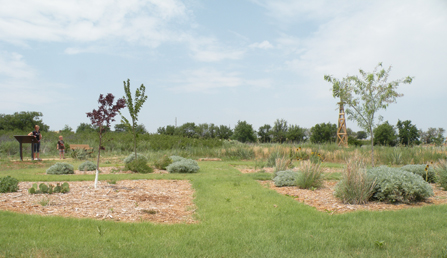 In the days before aspirin, drive-thru, and nylon fabric, people relied on the land for medicine, food, and clothing. They did not have a mega-mart to buy things; the land was their mega-mart. Animals and plants provided them with the necessary means for living. To most of us this sounds like an alien culture; using plants as clothing; forging tools from animal parts and trees; or chewing on bark to ease the tension of a pounding headache. But these were time worn traditions to the American Indians. This was their way of life.
In an effort to help the public understand these traditions Washita Battlefield National Historic Site partnered with the Cheyenne & Arapaho Tribes Language Program to develop the Washita Native Garden. This garden features 21 plant and tree species, all of which are significant to the Cheyenne and Arapaho tribes for spiritual and practical uses. These uses are arranged into four separate categories: Daily Living, Home, Edible, and Medicinal. The garden itself is based on the design of the Medicine Wheel. This wheel holds spiritual and astrological significance to many American Indian tribes. It is used for healing rituals and as a source for peace and clarity.
In our efforts with the Cheyenne & Arapaho Tribes Language Program it is our hope to use this garden as a means to educate the public on the traditions of the past while providing them a peaceful place to contemplate the future.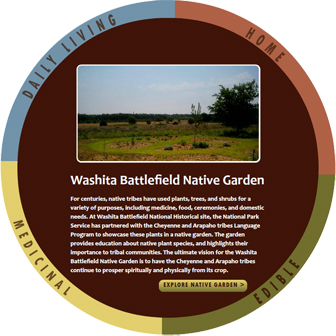 Last updated: March 25, 2015