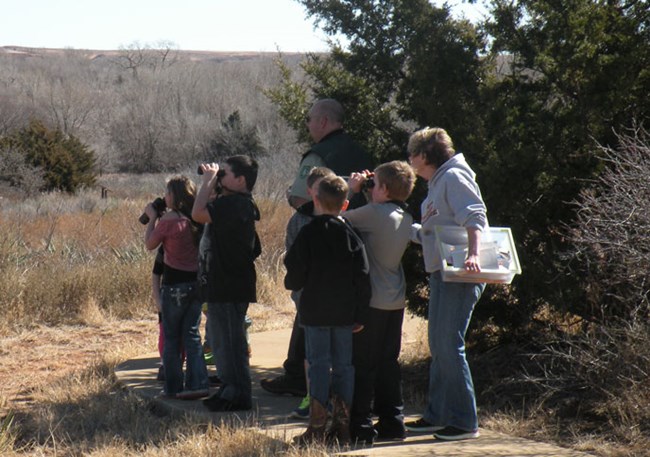 Yes, you CAN count birds in the wind! Why you can even count them on Valentine's Day!
Second graders from Cheyenne Elementary came to Washita to take part in the 2014 Great Backyard Bird Count (GBBC). With much appreciated help from staff of the Washita National Wildlife Refuge and Black Kettle National Grasslands the kids identified sparrows, juncos and maybe even a robin!
The GBBC is held annually to see how many of the world's 10,240 species can be found and identified. The idea is to create an annual snapshot of the distribution and abundance of birds.
Launched in 1998 by the Cornell Lab of Ornithology and National Audubon Society, the GBBC was the first online citizen-science project to collect data on wild birds and to display results in near real-time.
Interested? The count takes place from February 14-17, 2014. Simply tally the numbers and kinds of birds you see for at least 15 minutes on one or more days of the count. You can count from any location, anywhere in the world! For more information go to http://gbbc.birdcount.org/
This is the third year that Cheyenne elementary students have taken part in this world-wide event.