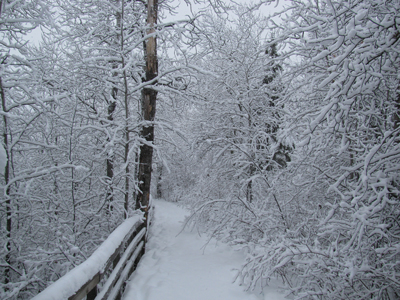 News Release Date:
February 4, 2015
Contact: Tawnya Schoewe, 218-283-6670
INTERNATIONAL FALLS, MN –Grab a pair of snowshoes and experience the 2 mile round-trip Oberholtzer Trail. Visitors to the park often hike this trail in summer due to its convenient location - near the Rainy Lake Visitor Center. In winter, the ice and snow cover creates a completely different trail experience.
The Oberholtzer Trail was named after conservationist –Ernest Oberholtzer who lived not far from the doors of the Rainy Lake Visitor Center. Ober (as he was known) built his home on Mallard Island in 1915. Years earlier, Ober met an Ojibwe Indian guide - Billy Magee and became fast friends. They traveled, by canoe, thousands of miles throughout the area and into Ontario, Canada.
After years of travel with his Ojibwe companion, Ober realized the area should be set aside for all to enjoy and spearheaded a movement to stop dam development in the region. Oberholtzer's persistence led to the passage of the Shipstead-Newton-Nolan Act in 1930. This legislation, based largely on Ober's alternative plan for the region, prohibited the changing of water levels in the Superior National Forest. It was the first legislation ever passed by the U.S. Congress that mandated wilderness values on federal lands.
Ober and the many other conservationists, with whom he worked, were successful in setting aside nearly three million acres of wilderness known today as the Boundary Waters Canoe Area Wilderness. Many of his fellow conservationists would later help establish Voyageurs National Park.
After enjoying the Oberholtzer Trail, if you need a little more adventure, snowshoe across landscapes under water spring, summer, and fall;trek across frozen wetlands, across lake ice, and around the nearby islands for a unique winter view. On Saturdays, starting February 7, join a ranger to explore these different frozen landscapes, the history the snow shrouds, and the wildlife that adapts, survives, and thrives, during northern Minnesota's winters.
The park has a variety of snowshoes styles and snowshoe sizes for all ages to enjoy. They are free-of-charge (donations welcome) and can be checked-out at the Rainy Lake Visitor Center Wednesdays through Sundays from 10:00 am to 4:00 pm.
The most up to date winter trail conditions are available on our website atwww.nps.gov/voya.
Snowmobile Trails
Pressure ridges, places lake ice has buckled or heaved due to winds or currents, have developed both on and off designated snowmobile trails within Voyageurs National Park. Pressure ridges have settled down but will continue to be monitored. Slush conditions have gotten better with the lower temperatures but pockets of slush exist off the trails. Trails are rerouted as hazards are found, but visitors are encouraged to check each pressure ridge prior to crossing due to changing conditions.
International Falls to Kettle Falls (Purple Trail) –Open, staked, and groomed
Rainy Lake/Black Bay to Kabetogama Lake to Ash River (Green Trail) –Open, staked, and groomed
Ash River to Crane Lake (Green Trail) –Open, staked, and groomed
Chain of Lakes (Dashed Black Trail) –Open, staked, and groomed
Ash River to Kettle Falls (Yellow Trail) –Open, staked, and groomed
East Namakan Lake to Sand Point Lake (Blue Trail) –Open, staked, and groomed
Rainy Lake Ice Road–Open to Cranberry Bay and around Dryweed Island
Kabetogama Lake Ice Road–Open
Ski Trails
Echo Bay Ski Trail –Open, packed, and tracked
Black Bay Ski Trail –Open, packed, and tracked –Pine Loop rocky in places.
Tilson Connector Trail –Open, packed, and tracked
KabAsh Trail –Open
Snowshoe Trails
Black Bay Beaver Pond Trail –Open, not packed
Blind Ash Bay Trail –Open, not packed
Oberholtzer Trail –Open, not packed
Sullivan Bay Trail –Open, not packed
"STAKED TRAILS MAKE SAFETY SENSE"
ORANGE IDENTIFIES HAZARDS
About the National Park Service. More than 20,000 National Park Service employees care for America's 401 national parks and work with communities across the nation to help preserve local history and create close-to-home recreational opportunities. Learn more at www.nps.gov.