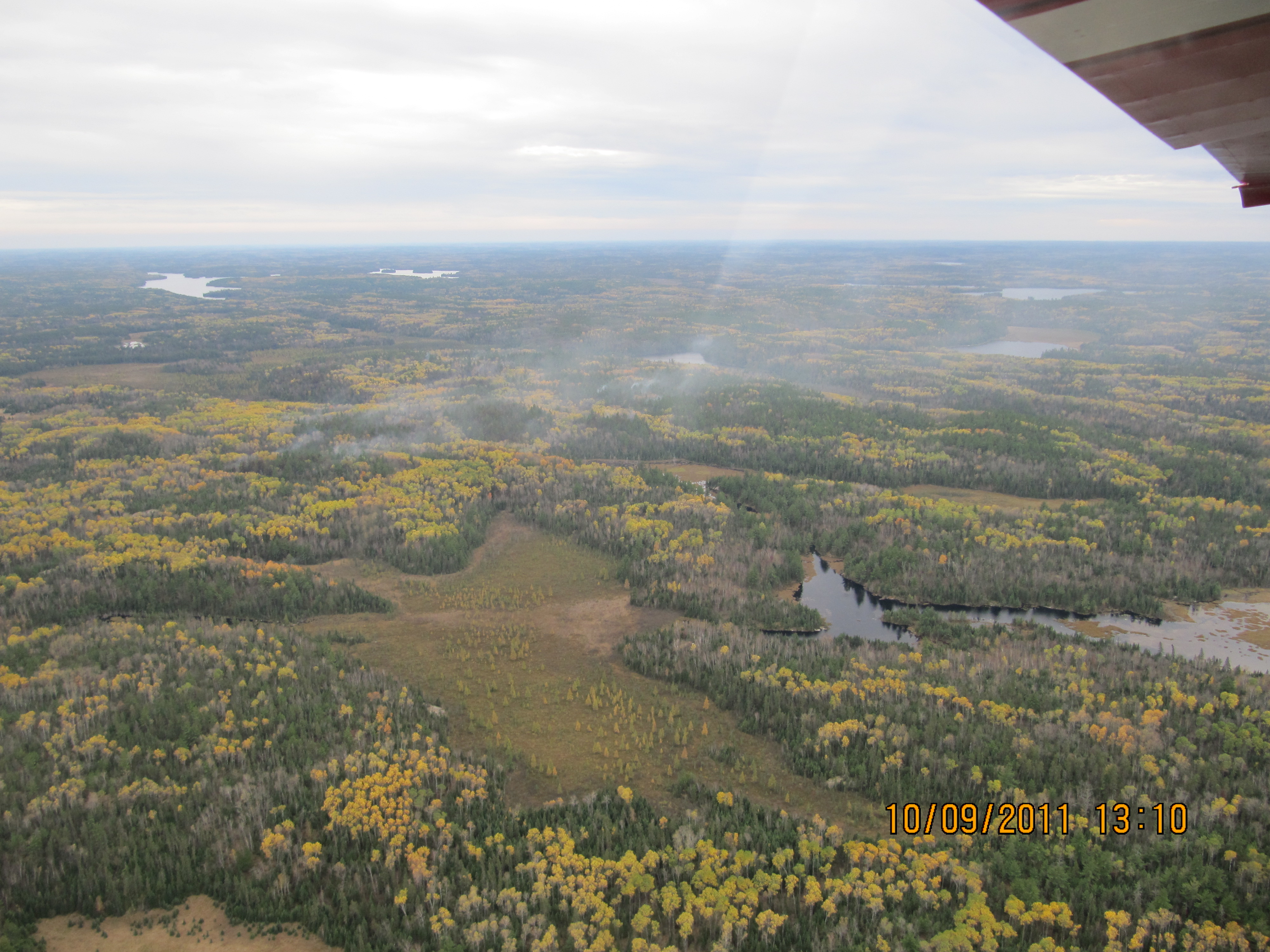 News Release Date:
October 11, 2011
Contact: Scott Bressler, 218-283-6658
International Falls, MN - As predicted, the Tooth Lake Fire grew to the north northeast through the day on Friday, October 7, 2011. Due to high winds and low relative humidity, the size of the fire increased to approximately 300 acres as of October 8, 2011; it remains at that size. The fire continues to burn in mixed hardwood/pine forest and is primarily burning on the ground with occasional single and group tree torching. Cooler temperatures and higher relative humidity is helping to slow the spread of the fire. The current fire weather forecast is calling for cooler temperatures and higher relative humidity over the next week or so with chances of rain throughout the week. The park's Fire Management Officer anticipates minimal spread of the fire over the next several days.

The park's fire management staff has been monitoring the fire using aircraft since it was detected. Due to its location, accessibility issues, fire fighter safety, and few values at risk, the current action on the fire will be to continue to monitor it daily. Other criteria include current and forecasted weather, current and expected fire behavior, availability of fire fighting resources, and proximity to private cabins or lands, or park infrastructure.

Resources from Indiana Dunes National Lakeshore arrived on Saturday, October 8, 2011 and will assist with managing the Tooth Lake Fire as well as initial attack throughout the park. A human caused fire was suppressed on Cutover Island in Kabetogama Lake on Saturday, October 08, 2011. The fire was contained at .2 acres. Personnel will be checking this fire over the next few days to ensure it is out.

www.nps.gov

About the National Park Service: More than 20,000 National Park Service employees care for America's 395 national parks and work with communities across the nation to help preserve local history and create close-to-home recreational opportunities. Learn more at www.nps.gov.