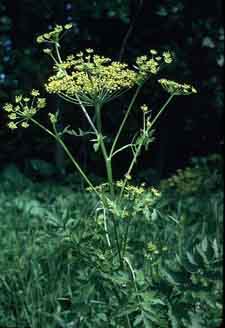 Wild Parsnip (
Pastinaca sativa
) is a tall (six inches – four feet) perennial herbaceous plant. It spends the first year as a small rosette (six inches tall) and can grow up to four feet in its flowering stage. Wild parsnip has broad, flat-topped yellow flowers which bloom throughout the summer months.
This plant is native to Europe and Asia. Because the roots are edible, it was brought to the United States and planted as a food source. It escaped cultivation and is now a widespread invasive plant across the United States.
Exotic and invasive plants, like wild parsnip, can out-compete native plants. This can cause a native plant community to shift to a field of exotic species and possibly remove important food sources for animals. Warning: Visitors should be aware of wild parsnip and how to identify the plant. This plant, when cut or disturbed, produces a toxic juice. If the juice contacts the skin and reacts with sunlight, it can cause severe rashes and burns. This condition is known as phytophotodermatitis. Voyageurs National Park recognizes the negative effects wild parsnip has on the ecosystem. Staff members are taking steps to eliminate this plant from the park. Careful use of herbicides has been effective in treating patches of wild parsnip within the park. Cutting flower heads before going to seed can also prevent the plant from spreading.
How you can help:
Please help us prevent the spread of wild parsnip in Voyageurs National Park. Inform a park naturalist if you find this plant within the park.

For additional information on wild parsnip, click on the link below to visit the Minnesota Department of Natural Resources website: MNDNR – Wild Parsnip