Natural Features & Ecosystems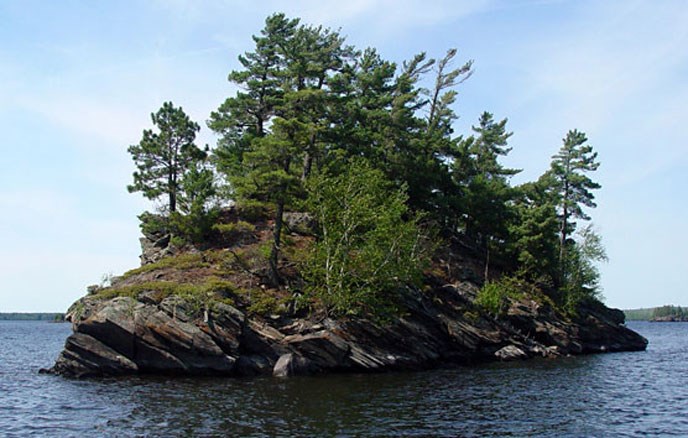 The glacially smoothed landscape of Voyageurs National Park is part of the Canadian Shield. This area of exposed Precambrian rocks formed two-billion years before the age of dinosaurs. The smoothed rocky outcrops and low elevations that now characterize the park's terrain provide little hint of the area's more dramatic history.

Study of the park's rocks has shown that what is now Voyageurs National Park was once an area where volcanoes erupted beneath an ocean that no longer exists.
They provide evidence that this area also contained mountains, and that beneath the surface of the archaic landscape were vast chambers of molten rock. These magma chambers cooled hundreds of millions of years ago, forming the granitic rocks that now comprise the Vermillion batholith.
These ancient rocks are found at the surface of the park because the passage of hundreds of millions of years has worn down the mountains. In geologically recent times, continental glaciers scoured the landscape, removing rotten rock and leaving behind a blank slate for the re-colonization of plants and animals.

When we think of the changes that have occurred in what is now Voyageurs National Park over this great span of years, the landscape and natural features that define it take on a kaleidoscopic quality--as glaciers, lakes and forests advance, retreat, change, disappear, and return again and again over time.


Last updated: April 10, 2015