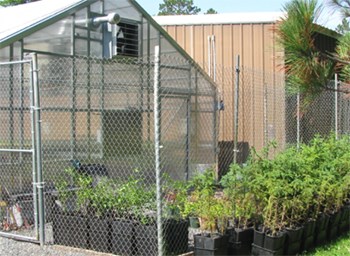 The plants of Voyageurs are both the food and the homes of the wildlife. The more diverse a plant community, the healthier the whole ecosystem becomes.The vegetation program at Voyageurs is focused on preserving and, if necessary, restoring this plant and ecosystem biodiversity.
Wind events, fire, floods, drought, and land use activities both in and surrounding the park disturb the native plant community and create a need to restore vegetation.Sometimes the disturbance is small and localized and sometimes it is large and extensive.
The two main phases of restoration that we emphasize are: 1) removing the unwanted exotic/invasive plants and 2) planting local native plants.To facilitate planting local native plants, we constructed a native plant nursery.This nursery consists of a 720 square foot greenhouse with an additional 400 square feet of fenced area behind the greenhouses.