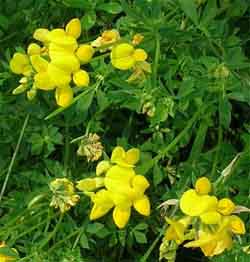 Birdsfoot Trefoil (Lotus corniculatus) is a low-lying (twelve inches) perennial herbaceous plant. Individual plants spread horizontally, forming large, dense mats across the ground. Yellow flowers form in groups of 3-12 and bloom continuously through most of the summer.Mature seed pods are one inch long; clusters of pods together remind people of a "bird's foot".
This plant is native to Eurasia and North Africa and was introduced to the United States for its benefits. Farmers find birdsfoot trefoil excellent forage for cattle because it produces a large biomass. Trefoil, planted with some grasses, can yield up to four tons of hay per acre. Another benefit is erosion prevention along roadsides and construction sites.
Birdsfoot trefoil has become a successful invasive species.This is due to an individual plant's ability to spread horizontally and produce large amounts of seeds.The plant can effectively eliminate other native species trying to grow nearby.
Voyageurs National Park recognizes the negative effects birdsfoot trefoil has on the ecosystem.Resource managers are taking steps to eliminate this plant from the park.The most effective removal method is to spray a species-specific herbicide.Transline will target species in the pea family without affecting other plants.Replanting the following year with other ground cover plants helps prevent trefoil from returning.
How you can help:
Please help us prevent the spread of birdsfoot trefoil in Voyageurs National Park. Inform a park naturalist if you find this plant within the park.
For additional information on birdsfoot trefoil, click on the link below to visit the Minnesota Department of Natural Resources website: MNDNR – Birdsfoot Trefoil